There is something about an entrepreneurial spirit that captivates us. While some might chalk it up to their ability to solve the hardest problems or dream bigger than the rest of us, many entrepreneurs would likely say that churning out endless ideas is the easy part.
The hard part and the real magic lies in taking those ideas off of the whiteboard and making them a reality. This is especially true in food, fiber, and farming where endless variables and challenges like weather, volatile markets, and shifting consumer preferences make formidable foes.
For Propagate co-founder and CEO Ethan Steinberg, the road from whiteboard to reality has not been easy but he's grateful for every hurdle they've faced. It has led them to where they are today.
"We've built an ecosystem that can commercialize an industry," he explains about Propagate Group – the three operations he and his team have built to scale agroforestry into what he sees as a $1 billion opportunity.
Today, Propagate announced a $10M Series A fundraise to propel this vision to commercialize its agroforestry-focused software, development, and financing ecosystem. The round was led by Belgium-based The Nest and also included Agfunder, the TELUS Pollinator Fund for Good, Techstars, and Neglected Climate Opportunities, a wholly owned subsidiary of the Jeremy and Hannelore Grantham Environmental Trust, and more. 
"Agroforestry is a crucial element in decarbonizing agriculture and has an amazing side effect of increasing financial resilience for farmers. It also requires a systems-approach to implement it on a large scale," says Anouk Schoors, Investment Manager at The Nest. "Propagate has been the most advanced, building the platform necessary for the institutional roll-out of agroforestry, bridging gaps and forging partnerships where needed. We are thrilled to join forces with them to continue to develop the market and add another tool for more regenerative farming to the mix."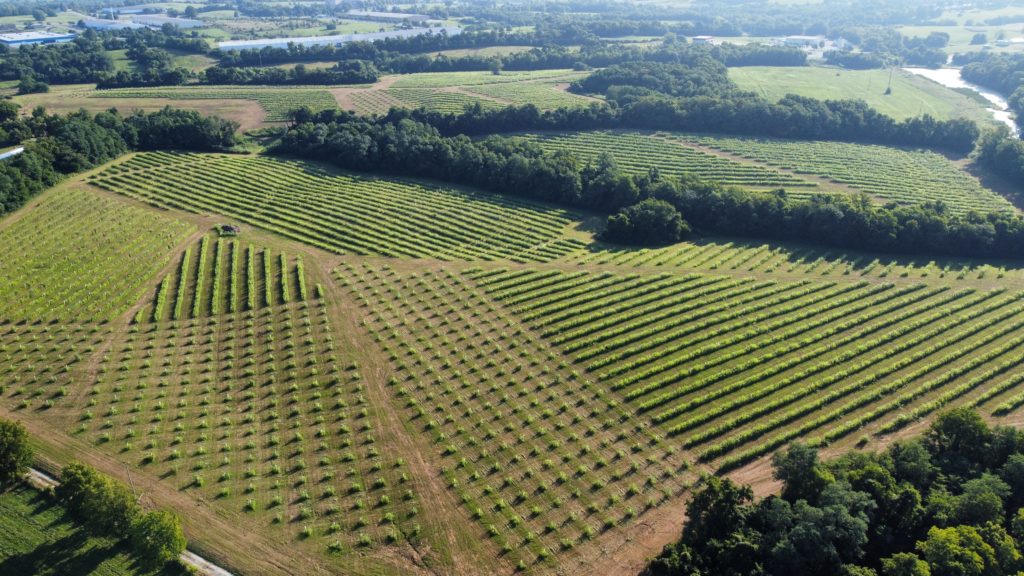 A Momentous Year
Launched in 2017, Propagate (formerly Propagate Ventures) was born out of three friends' respective health journeys that led them to regenerative agriculture. As they delved deeper into the workings of our current food system, they didn't understand why tree crops weren't more abundant. Trees offer a variety of benefits to producers, ranging from improved soil organic matter, improved soil water holding capacity, increased shade cover, and enhanced wildlife habitat.
Today, the startup works with farmers, agribusinesses, and service providers to design and install tree-crop systems that work in tandem with existing farm operations. The Propagate ecosystem of products and services includes regenerative farm planning and management software (Overyield), commercial agroforestry development (Propagate Management), and equity investments for agroforestry transition (Agroforestry Partners).
This latest fundraise will go towards continuing to roll out their profitability and production forecasting tool, Overyield, hiring more experts to the team, and ultimately serve their mission to get more trees onto the 158 million acres of farmland that are suitable for tree crops in the US. Propagate is working on a broad range of tree and crop types including everything from shrub fruits like blackcurrant and elderberry to chestnut to timber. The team is also working on Mediterranean and tropical crops with an eye towards global agroforestry needs and plans to expand its team soon.
The capital injection follows some serious momentum for the maturing startup. The company raised a $1.5 million seed round in 2020 and in the past year, it has doubled business while planting an additional 37,000 trees on farms in the Hudson Valley, Ohio, Kentucky, and Hawaii to name a few locations. This brings the total tree planting count to about 100,000 of the 760,000 planned to date.
Making A Vision Reality
As Steinberg describes, taking an idea from vision to reality can be a bumpy road filled with plot twists and potholes. For Propagate, the solution to preserving the vision and seeing it through came down to one very important rule: always listen to your customer. This means treating every interaction with a farmer like customer discovery. Through this process, they've identified three key customer needs: project design, project implementation, and financing – and they have built their ecosystem around these.
Managing risk – for the farmers and Propagate – became critical to implementing their vision and this ecosystem, and for Steinberg starts before the farmgate with planning, procurement of nursery stock and reducing the complexity around the technical expertise requirements for agroforestry.
"Our product is built around the main hurdles that folks have pointed us towards," Steinberg explains. "Farm design was a big challenge. What trees? Where do they go? What is the suitability of those crops on the farm? What topographical, soil, water, and climate data can drive a more informed decision? What does it take to actually get those trees planted and managed while reducing operational risks?"
Overyield, a SaaS based agroforestry project planning platform addresses all these potential hurdles for operations looking to adopt agroforestry. As Steinberg likes to explain, this platform can take a project idea from computer screen to productive agroforestry in a matter of hours.
As a testament to this timeline, he notes that it used to take them 80 hours to map out an installation but with Overyield's new project assessment and profitability scoping tools, it only takes eight.
"That's the value of software. It's pretty significant," he adds.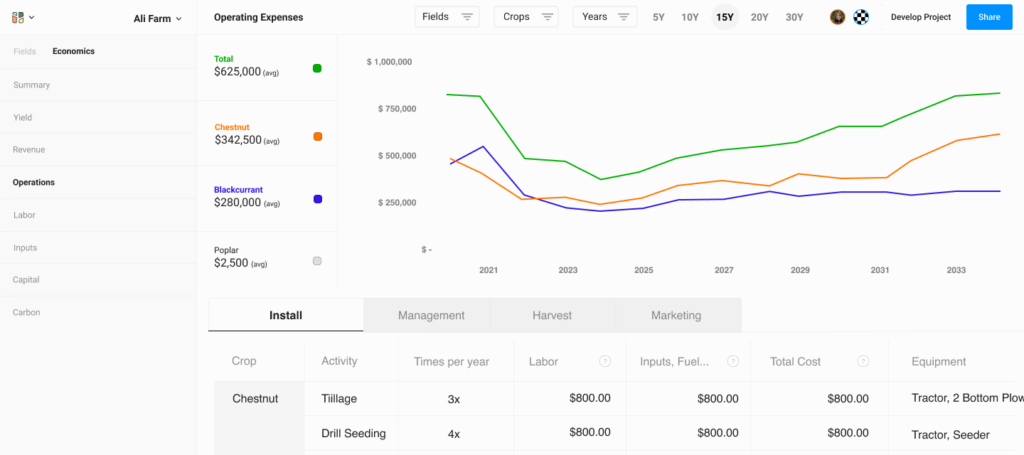 Even with the transformational capabilities of the Overyield software, many producers will still face hurdles for project implementation. Through Propagate Management producers can access a vetted network of partners and resources who can support things like ensuring the quality of stock, planting and maintenance services, as well as soil preparation and tree installation.
The biggest puzzle piece that Propagate has contended with so far, however, doesn't involve trees, soil, or convincing landowners that stewardship matters for the betterment of people and planet.
"Financing is the biggest challenge," Steinberg explains.
The Biggest Puzzle Piece
As regenerative agriculture gains momentum, the availability of aligned capital has increased. Having more choices beyond traditional capital sources is a bonus for the countless burgeoning regenerative-focused producers and businesses. Still, conventional financing channels are playing a part in growing regenerative agriculture.
"Venture capital has been really useful to provide the operational capital for us to build our ecosystem to start creating the infrastructure that can help make the market," Steinberg explains.
"The way we've approached all of it is venture can help us set up the SaaS piece to create the toolkit that makes it easier and frankly faster for somebody to look at a piece of land and be able to design and get clarity around the costs, revenues, yield projections, labor assumptions, and carbon forecasting."
But Steinberg clarifies, "Venture capital for the project finance requirements to transition a farm towards agroforestry is not the right type of capital. You are dealing with a much different risk profile, a much different return profile. An agroforestry system offers lower risk and lower reward but is significantly more stable than a VC investment. It's just a totally different asset from that perspective."
Project finance for agroforestry systems was a need Propagate set out to solve. "When we are dealing with trees, it's a longer-term cycle. It's working through years one through 10 before the trees are producing at a more mature level and you've hit a breakeven point. That's what we've built out here, thinking through equity (or debt) structures that make it more valuable or easier for a farm to cover the CapEx and/or OpEx requirements they have to transition and manage an agroforestry system."
Explaining the benefits of agroforestry financing to the capital community has been easier than you might think, he adds. Investors in the real assets community are quick to understand the subject, for example, as well as investors from the timber industry.
There are still plenty of opportunities to educate capital holders about the nuances of getting trees in the ground, however.
"We're absolutely educating and talking about the value of biodiversity buffers from a pest management standpoint, for example, as well as how we're thinking of building topsoil and how that affects the growth rate of trees."
This also gives Propagate a chance to educate capital holders about their particular approach to agroforestry through a regenerative lens, which means incorporating things like cover crops and mitigating chemical use.
The effort to address the agroforestry transition finance challenge has been a creative process for the team. Studying the solar industry has given Steinberg and the team inspiration through its successes and its failures.
"We were looking at some of the financiers or companies that were using technology to their advantage to build an easier path for solar. We viewed a tree as a permanent asset that can be measured and offers a lot more stability and predictability around what it's producing. So we thought why not just start mimicking what has worked well in solar including marketing and policy mechanisms?" Steinberg says.
"A number of arrays operate on leased farmland, particularly when it comes to commercial developments. You start to see some of the parallels in terms of trees producing food and/or materials instead of electricity. Although the timelines are different between agroforestry and solar, the equation or the logic was the same so we put our energy into developing some security around the operations and maintenance."
As one of the partners of the newly launched USDA Climate Smart Commodities grant program, Propagate is hoping to delve deeper into the demonstrative world of solar when it comes to the cash-flow side of things. Steinberg names forward contracts and power purchase agreements as a few examples of mechanisms that could make sense for agroforestry.
The result of countless conversations with financiers and reflection on the similarities with the solar industry is a suite of services that address tree-asset investments. So far, Propagate has found success using carefully structured lease agreements that make it possible for a third-party investor to help cover the often hefty CapEx and OpEx requirements that come with adopting agroforestry.
Also born out of these efforts is the newly formed Agroforestry Partners (the third leg of the Propagate ecosystem) that will continue to explore and execute equity investments in agroforestry transition. Agroforestry Partners provides a turnkey financing solution to enable agroforestry conversion for landowners and provide a return-focused and environmentally friendly option for investors. It will finance long-term leases with landowners across the temperate United States as well as the planting and cultivation of permanent agroforestry crops. This helps landowners realize short-term value while enabling the longer term value creation with agroforestry.
Reflecting on the Journey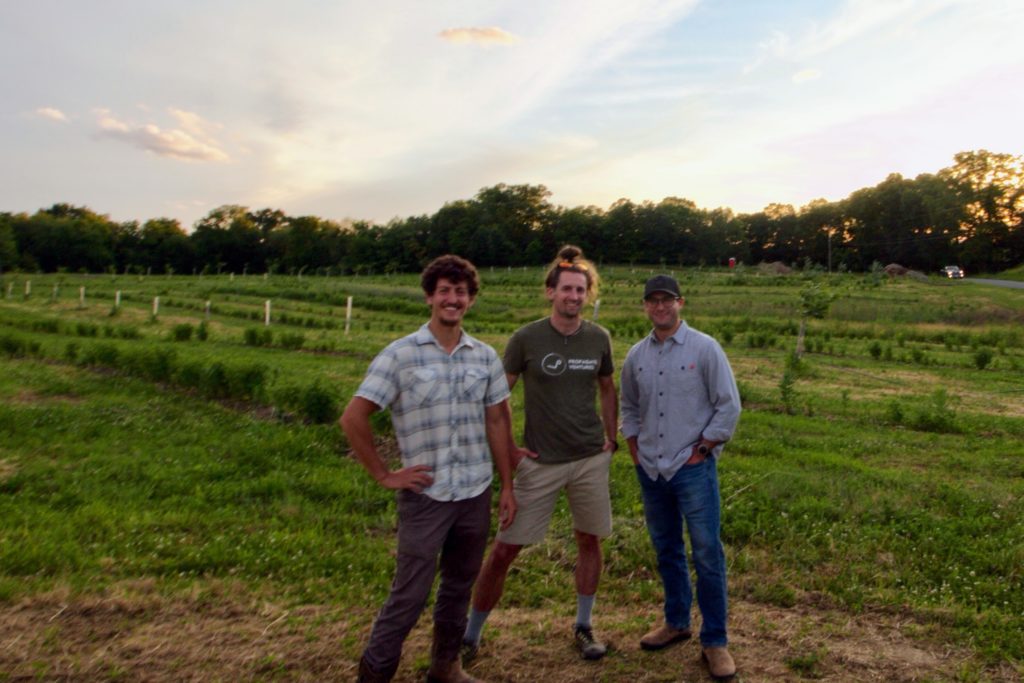 With a comprehensive suite of services that are already being put to work to commercialize and scale agroforestry, there's no doubt the Propagate team has a stack of lessons to share on. But the most important lesson Steinberg has learned as an entrepreneur has nothing to do with selecting trees, or capital, or adopting farmer feedback. Instead, it touches on one of the most critical underpinnings of regenerative agriculture.
"The most valuable lesson that working with trees has provided Propagate is that it forces us to be patient. We've chosen to not act on certain things and wait it out. That's played really well sometimes and sometimes it was the wrong decision. But it also gives us the ability to grow at the speed that regenerative agriculture is growing and not faster."
---
Check out Overyield at work in this short video:
---
Lauren Manning, Esq., LL.M. is a Senior Associate at Croatan Institute, freelance agrifood journalist, and small farmer in NW Arkansas.