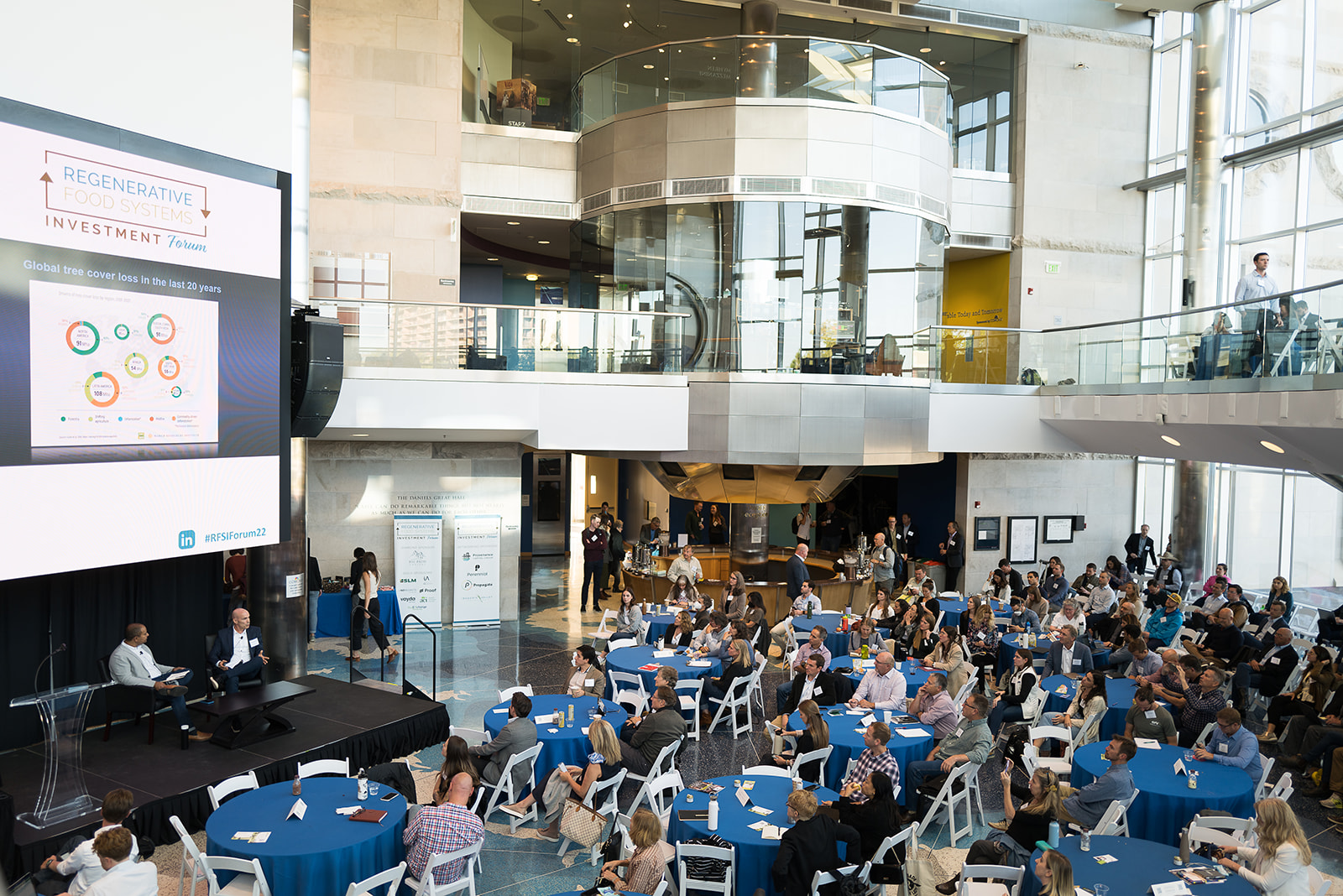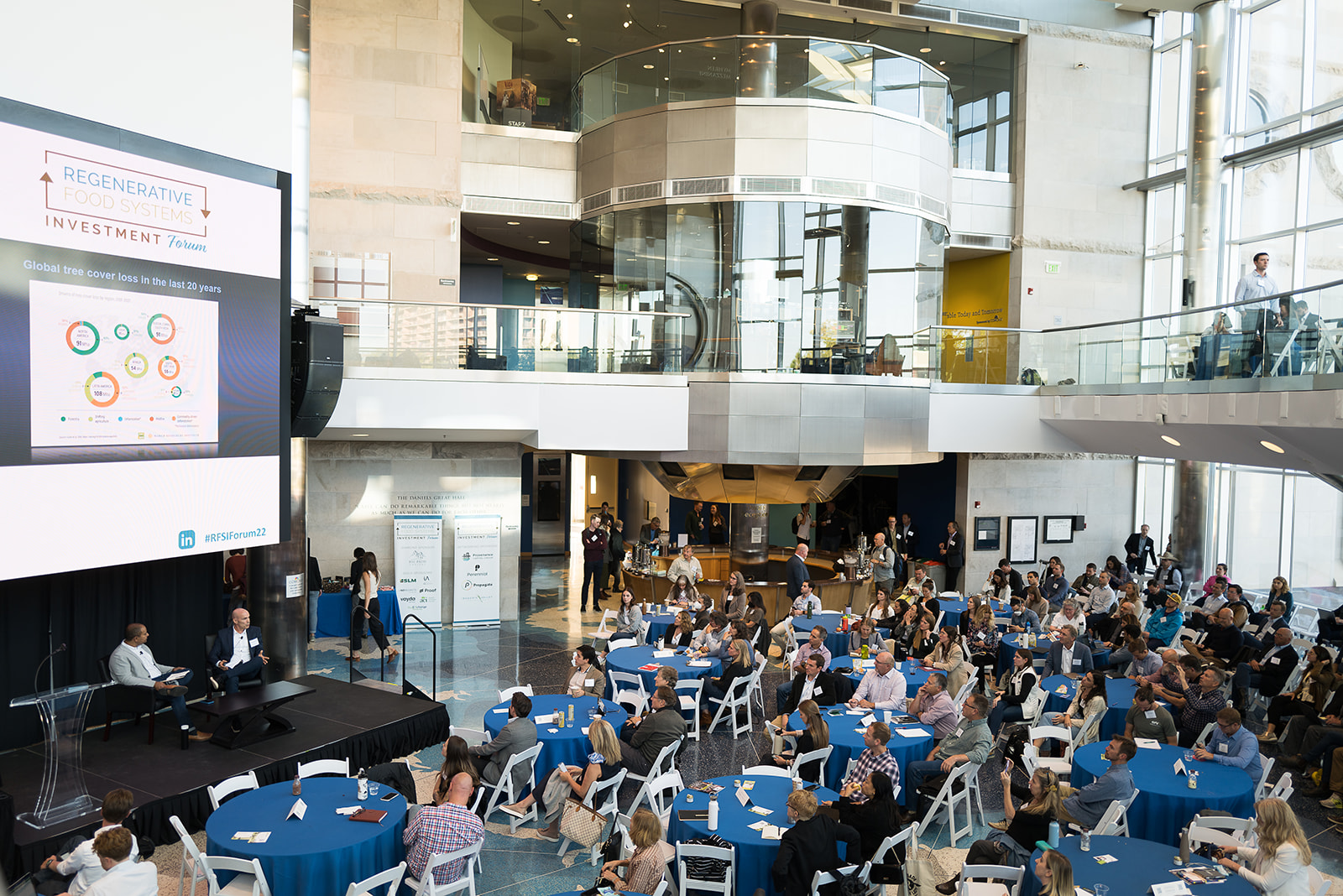 stock photo - copy - copy
Regenerative Food Systems Investment Forum

stock photo - copy - copy
Regenerative Food Systems Investment Forum

---
September 26-27 in Denver, CO
The marquee event for investing in Regenerative Food and Agriculture! The RFSI Forum catalyzes conversation, advances education, and drives increased investment in regenerative agriculture and food. Connect with 500 attendees, learn from 45+ speakers and make connections during 9+ hours of networking!

Last year, the RFSI Forum sold out. Don't miss out – make the decision to join us today!
< ABOUT ANCHOR >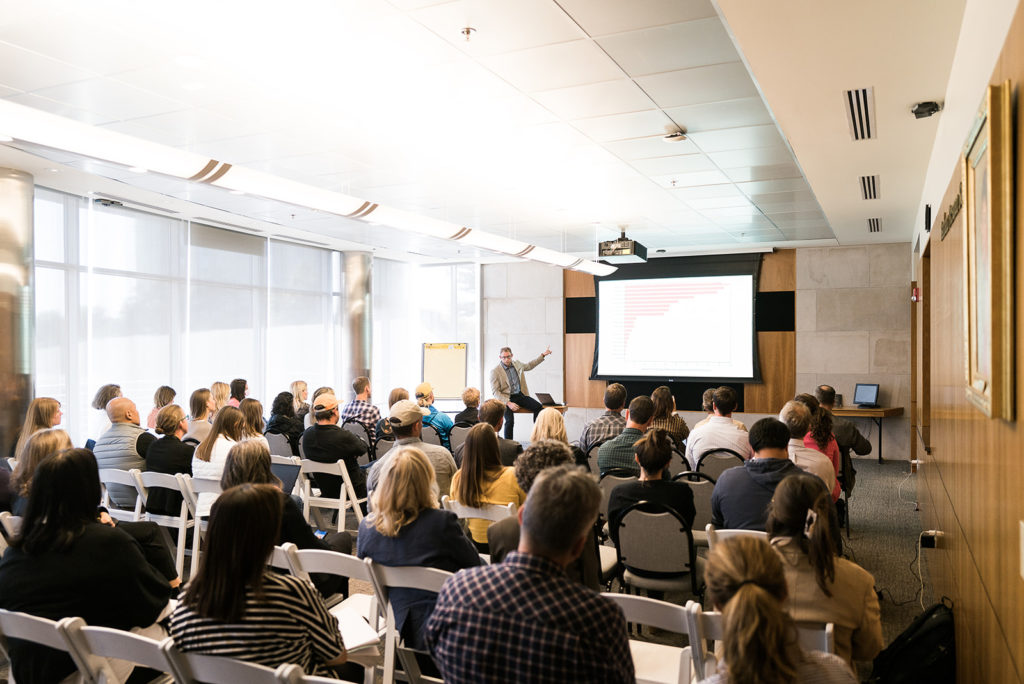 The Regenerative Food Systems Investment (RFSI) Forum is the ONLY event that exclusively brings together investors, capital activators, and critical stakeholders working to build resilient food systems. Listen and learn from the leaders in investing and regeneration. Meet existing and new connections to advance your goals in this space.
<ATTEND ANCHOR>
Attend
This is THE gathering for learning how and where to invest capital into agriculture and food for financial and impact returns. Whether you have been engaged in the regenerative space for decades or just a little curious, this event offers unparalleled insight and networking opportunities.
Who should attend?
Investors, fund managers, foundations
Financial advisors and other investment services
Entrepreneurs and producers
Food companies, agricultural and food service providers
Advocates for healthy food systems
NEW! Farmer Scholarships Available
Farmers and ranchers are an essential part of the regenerative food system and to the ecosystem of capital and solution-builders at the RFSI Forum. To better enable farmers to join the conversation, this year we are offering a limited number of Farmer Scholarships to cover registration fees. RFSI will sponsor some of these scholarships but in order to enable more farmers to attend, anyone is able to donate to the scholarship fund at any amount!
Want to contribute to the RFSI Forum Farmer Scholarships? You can donate when registering here.

Are you a farmer or rancher seeking funding but do not have the means to cover registration fees? (The winners of the Farmer Scholarships will be announced August 1, 2023.) Please fill out this form to apply for a scholarship.
< AGENDA ANCHOR >
What We'll Address
As the push for more regenerative agriculture grows and the conversation matures, an increasing amount of attention centers around the "how" of regenerative food systems. This year's event will tackle the most pressing questions facing investment in regenerative agriculture and food, including:
Understanding the Landscape
➪ Given the current economic climate, what is the state of capital investment into regenerative agriculture and food systems?
➪ What are the building blocks – financial and otherwise – to achieve successful transition on and off the farm?
➪ How can advancements in soil carbon markets, biodiversity investments, and nutrient density measurement efforts move the system forward?
Activating Capital Across the System
➪ What do the inner workings of a regenerative farmland deal look like and what lessons can be learned?
➪ Who will fund the missing middle of the regenerative supply chain?
➪ How are diverse public and private finance vehicles working together to create innovative capital solutions for farmers and food systems businesses?
Engaging Diverse Stakeholders
➪ How is policy and public funding shaping the allocation of capital to regenerative and the systemic transition to less extractive food systems?
➪ Food corporates are increasingly engaging in the regenerative dialogue with significant impact potential – what roles can they play in transition on the farm and in the supply chain, as well as in providing financing support?
➪ As the regenerative ecosystem matures, how can we better engage institutional scale funders?
Join us in September to uncover how to successfully invest in and build regenerative food systems – from farm to consumer.
<BOOTCAMP ANCHOR>
New! RFSI Bootcamp
Are you just starting… or contemplating… your fundraising journey?
The RFSI Bootcamp, a new pre-course to the RFSI Forum, is geared toward farmers, ranchers, producers, brands and early stage start-ups that would like to better understand the regenerative food systems investment landscape and how best to engage in it. The 4-hour session will include:
An overview of the regenerative capital ecosystem
The basics of fundraising in the space
Lessons from those who have been through the fundraising process
Feedback from actual funders in the space to help you curate you approach
The RFSI Bootcamp will be held on Monday, September 25th, the day before the RFSI Forum begins. Limited space available, so be sure to register early! You do not have to register for the RFSI Forum to attend the RFSI Bootcamp.
<TOUR ANCHOR>
Regen Food Systems & Farm Tour
Thank you to our Tour Sponsor

<Hidden Block>
The Regen Food Systems & Farm Tour is an optional add-on experience taking place on October 11, the day before the Forum begins. Tour attendees will enjoy an inside look at McCauley Family Farms, an exciting regenerative farm near Boulder where you will find local seeds, perennial crops, fruit trees, pastured chickens, sustainable honey, sheep, pigs, and much more. The tour will also visit the Boulder Valley School District Central Kitchen, where attendees will learn and see the critical role schools and other institutions can play in reducing food waste, sourcing local food, and boosting child nutrition.
Following the tour, attendees will enjoy a unique on-farm networking experience, complete with only the finest chef-prepared farm-to-table food.
Join us on Tuesday, October 11 as we explore the regenerative food system nestled at the base of the Rocky Mountains near Boulder. Spots are limited for the tour, so register soon to reserve your spot!
Learn more about our stops!
McCauley Family Farms
Established in 2012, McCauley Family Farms is a regenerative whole-farm ecosystem that nourishes people and planet. Along with the high mountain snowmelt that irrigates the fields through historic canal, the people that contribute to the farm—staff, volunteers, interns, friends, family, neighbors, and customers—are its lifeblood. The farm is founded on the belief that people and planet can be healed with delicious food. As a unique and vibrant node in the expanding local food system web, McCauley Family Farms is connecting the dots between consumers and crops, produce and people, seeds and souls.
On the farm you will find fermentation, local seeds, perennial crops and herbs, fruit trees, pastured chickens, sustainable honey, sheep, pigs, alpaca, a llama, and most days. Marcus will share his journey as an organic and regenerative producer, how he built his operation, the headwinds he faced along the way and next steps on the journey.
<SPEAKER ANCHOR>
Speakers
<COMPANIES ANCHOR>
Join this growing list of companies who have committed to attend
Sponsors are indicated in green.
Current Data
Aether Investment Partners, LLC
Alder Point Capital Management
American Grassfed Association
Biodynamic Demeter Alliance
Bryan Cave Leighton Paisner LLP
Clear Frontier Ag Management
Colorado Department of Agriculture
Colorado State University
Colorado University Boulder
Common Threads Consulting / SAFSF Project on Sustainable Fibers and Textiles
Council of Development Finance Agency
DeLaTerre Permaculture Farm, LLC
Flourish - Transition Fund
Goldman Sachs Asset Management
Grass Roots Farmers' Cooperative
International Farming Corporation
Investing in Regenerative Agriculture and Food podcast
James Beard Public Market
Manulife Investment Management
Northside Capital Management
Red Door Wealth Management
Regenerative Food Products
Regenerative Organic Alliance
Renewable Resources Group
Rocky Mt. Food Collaborative
San Diego Food System Alliance
Soilworks Natural Capital
Spokane Conservation District
SRI Planning and Investments
Steltenpohl Family Foundation
Sustainable Agriculture and Food Systems Funders
Terra Regenerative Capital
The Conservation Finance Network
The Rockefeller Foundation
Tin Shed Ventures at Patagonia
Transformational Investing in Food Systems
Wheatbelt Development Commission
White Leaf Provisions, INC
Wild Orchard Regenerative Teas
< VENUE ANCHOR >
Venue
The 2023 RFSI Forum will be held at the Denver Performing Arts Complex in the Seawell Ballroom! Seawell Ballroom is conveniently located in downtown Denver, within walking distance to many hotels, restaurants and entertainment options. The ballroom offers stunning panoramic views of the city and mountains and plenty of space for our growing community!

The Seawell Ballroom is located in the Helen Bonfils Theatre Complex, at the northwest corner of the Denver Performing Arts Complex. Look for the marquee by the box office to enter and make your way to the second floor.
1350 Arapahoe St, Denver, CO 80204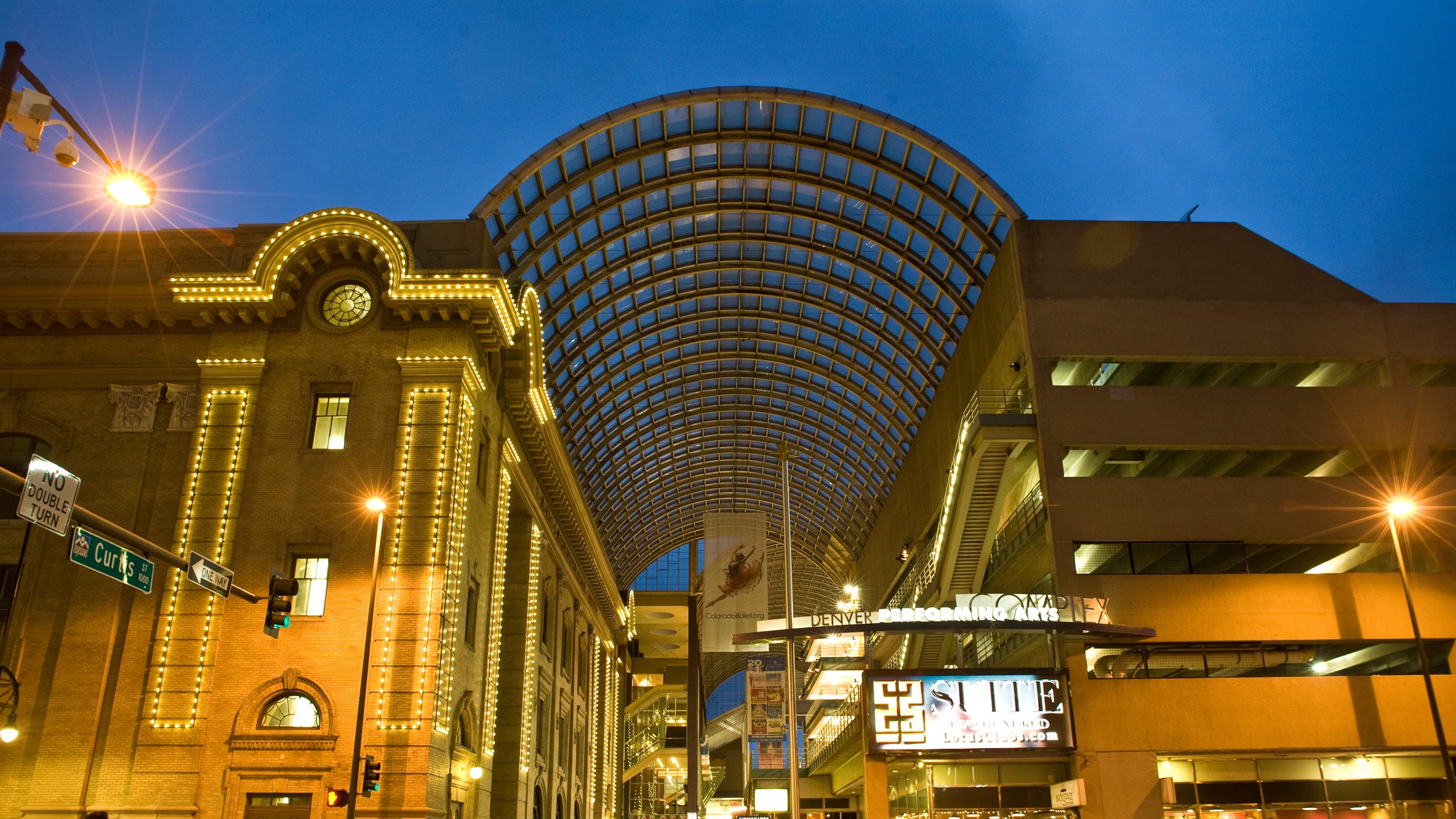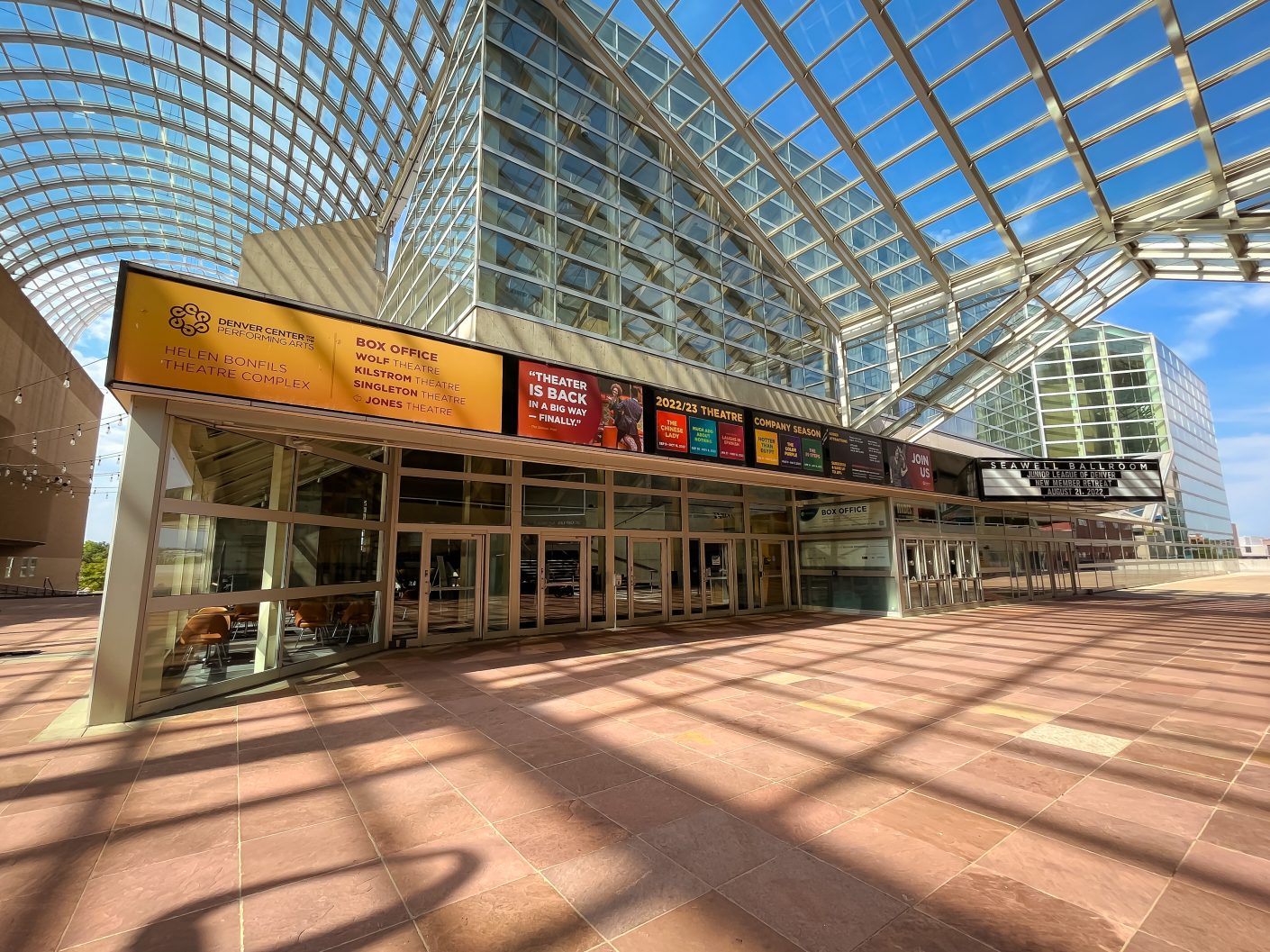 <HOTEL ANCHOR>
Hotel
The RFSI Forum room block is at the Kimpton: Hotel Monaco Denver, 1717 Champa Street, Denver, CO. The Kimpton Hotel Monaco Denver is conveniently located just 5 blocks from the RFSI Forum venue. We've secured a great discount for RFSI Forum attendees and other perks including $20 off parking per day and no guest amenity fees. Enjoy the hotel's newly updated guest rooms, Italian lounge and restaurant and fitness center!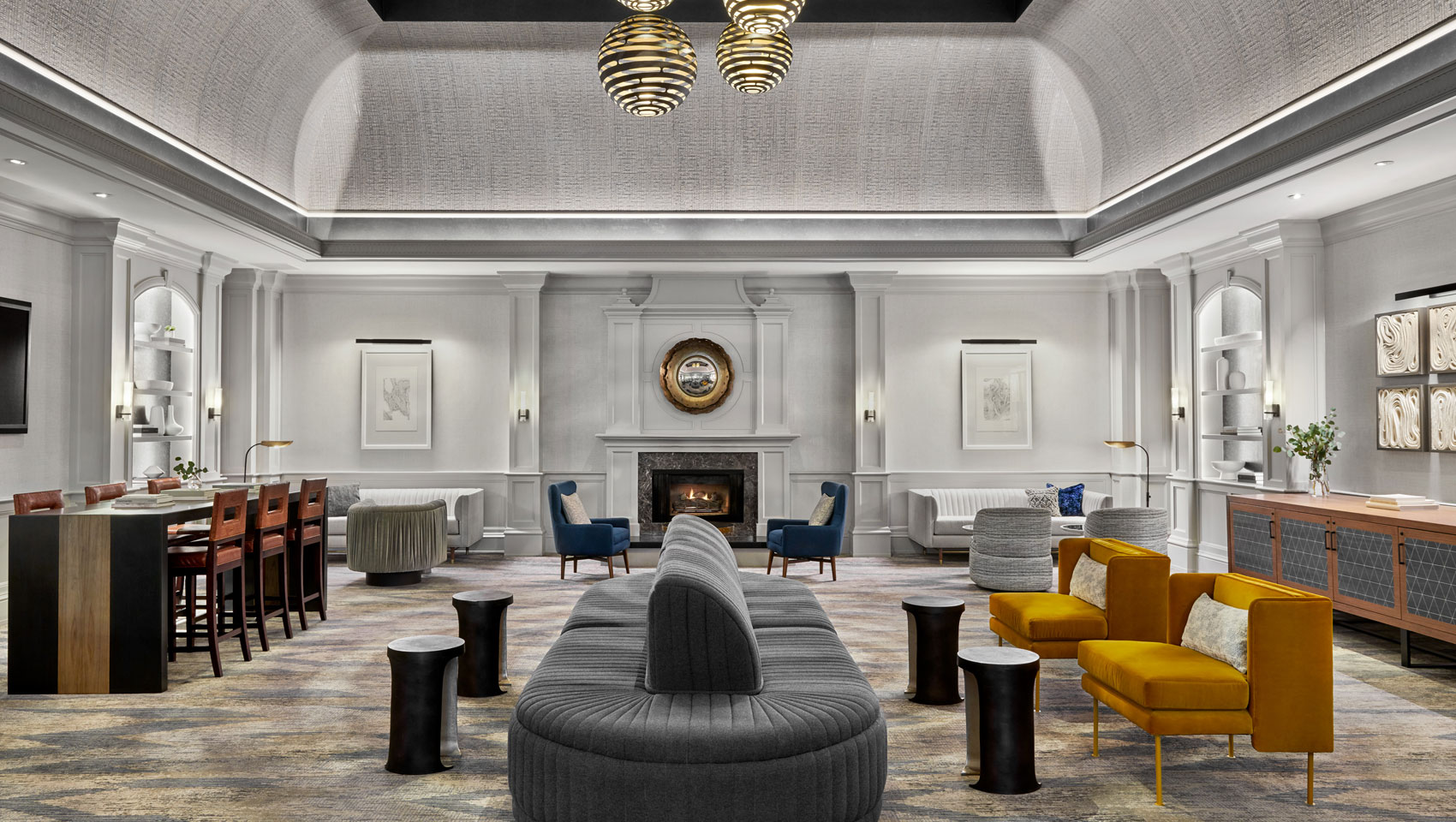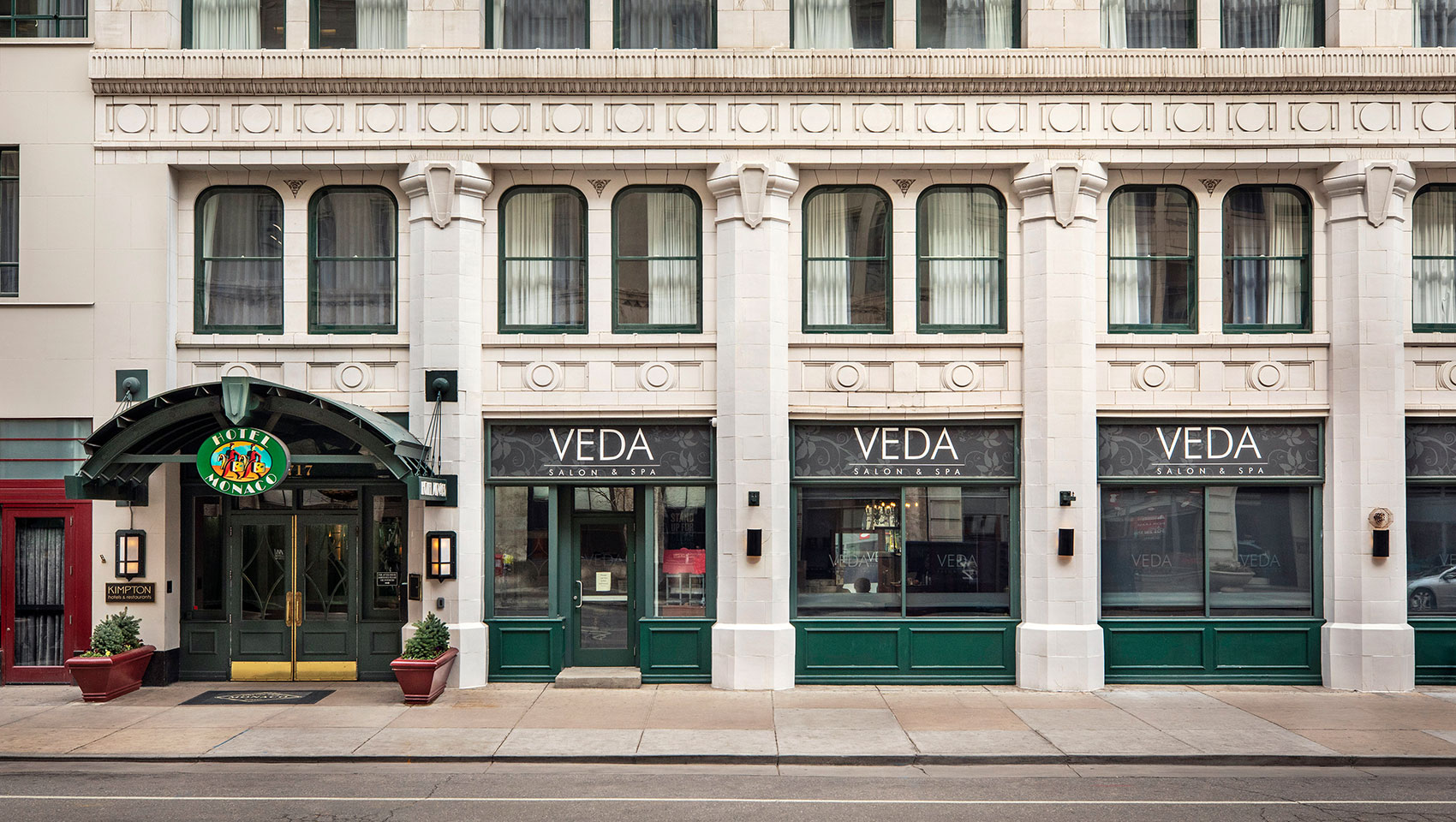 Kimpton Hotel Monaco Denver
Please Note:
* You will need to click "change search" to change your Check In or Check Out days.
* The Guest Amenity Fee/Service Charge is waived for our RFSI Forum guests, but it will still populate on your reservation confirmation. The fee will be waived at check in when the hotel collects payment.
* Our room block is for September 25-29, however please reach out to our hotel contact, Jason Landers, if you plan to extend your stay beyond the room block to see if you are eligible to receive our discounted rates for your entire stay. Email Jason Landers at jason.landers@monaco-denver.com or call 303.294.3021.
< SPONSOR ANCHOR >
Become a Sponsor
Sponsors of the RFSI Forum are the organizations leading the transition to a more regenerative food system. Sponsorship packages offer value and flexibility for diverse types of businesses, including:
Increased visibility and thought-leadership among a unique investor and activator community
Opportunity to showcase your expertise and services
Media coverage before, during and after event
Branding throughout the event
For information on our exclusive sponsorship packages, please contact Ian here →
Thank you to Our Sponsors
Trailhead Capital is a mission-driven investment firm seeking to create outstanding financial, societal, and ecological returns by backing entrepreneurs who are building the regenerative future of food and agriculture.
Further information
Biome Capital Partners is a builder of profitable, regenerative agriculture ecosystems. To create value, they invest in land, in growers, and in the cracks in the road from soil to plate.
Further information
With one of the largest networks of impact investors, Big Path Capital works with leading positive impact companies and funds assisting in raising capital and executing mergers and acquisitions, including for many sustainable agriculture and agtech companies and funds.
Further information
Propagate offers design & agronomic software as well as project development and financing services. Their platform, Overyield, makes it easy for farms to implement regenerative practices by providing access to agronomic insights, technical assistance, and financing so that farms can reduce risk while integrating fruit, nut and timber trees with animal or crop farming systems.
Further information
Perennial is the leading measurement, reporting, and verification (MRV) platform for soil-based carbon removal. The platform supports project developers and the food supply chain in monitoring soil carbon and net emissions, while reducing or eliminating the need for soil sampling and practice data.
Further information
PCG is a financial services firm, based in San Francisco, that focuses on raising capital for regenerative and circular enterprises and funds. We challenge the assumption that the capital markets should be driven by short term financial thinking. Instead, we collaborate with companies and investors to transition to an economy that includes people, planet, and profit.
Further information
We work with mission-driven investors to provide organic and regenerative farmers with land security and working capital through long-term leases, mortgages, and lines of credit. Our REIT is incorporated as a Public Benefit Corporation & B Corp.
Further information
Impact Ag Partners is an agricultural real asset management company who identifies value opportunities in real asset markets and delivers annual cash yields from the operations. We partner with investors through separate managed accounts to make direct investments in agricultural assets.
Further information
SLM Partners is an investment manager that uses investment capital to scale up regenerative agriculture and forestry. We invest in land and real assets alongside expert local operators. Founded in 2009, we are active in the USA, Europe and Australia.
Further information
A nonprofit startup studio delivering global scale, nature based solutions for a climate positive future.
Further information
Vayda is a farming company advancing regenerative agriculture through outcomes-based management and services. Through our Regenerative Management System, and Impact Marketing, we partner with stakeholders across the supply chain to make the transition possible and profitable.
Further information
Proof (formerly Proof of Impact) is an ESG + Impact data intelligence platform with end-to-end tools helping investment firms optimize for purpose and profit. Proof offers full ESG+I lifecycle support from initial strategy and measurement through to analysis and reporting.
Further information
The #NoRegrets Initiative is an integrated relationship-centered approach to land and asset management that uses a variety of capital – ecological, financial and social – to grow healthy soil and healthy communities while affecting change in our agricultural food system.
Further information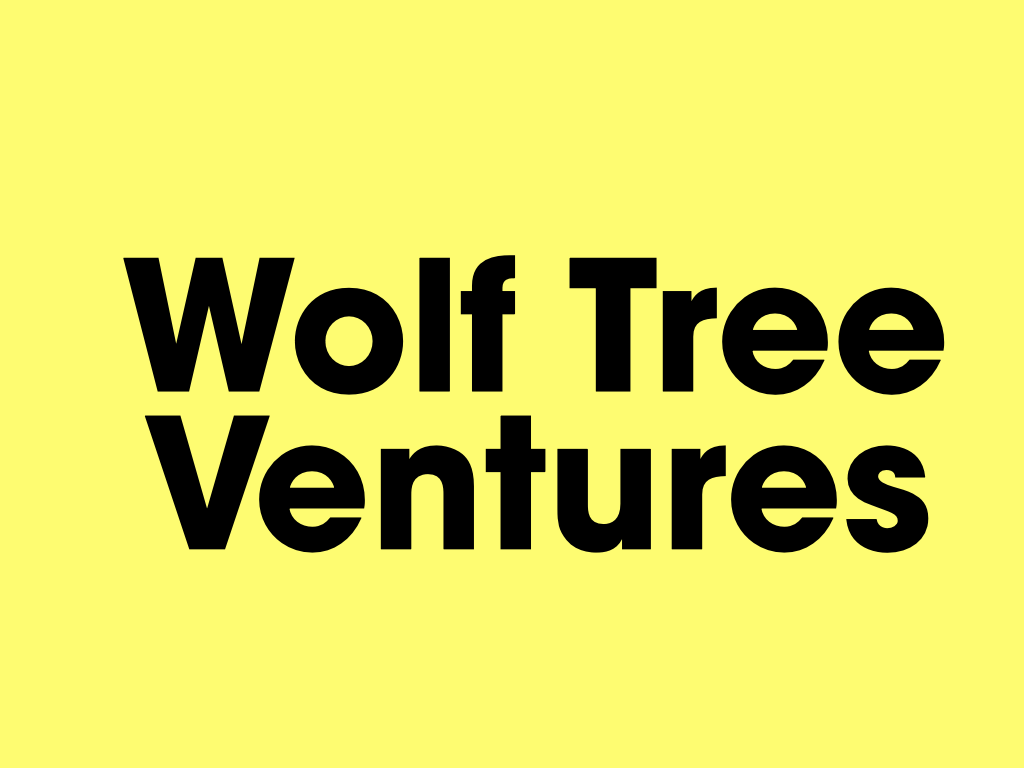 Wolf Tree Ventures is a venture studio that incubates businesses supporting regenerative transition. As we've explored opportunities, we were surprised to find there wasn't an insights & strategy firm focused on regen. So that's our first portco 🙂