Investing at the Intersection of Regenerative Agriculture & Nutrition
June 22-23 • 9:00 am-1:00 pm PDT • 12-4 pm EDT
Virtual Event
The way we do agriculture, the way we manage our soils, the way we process our food, and the way we get our food from farm to table all influence the levels of nutrients we find in our food. Conversely, there are also many things that influence our body's ability to use what nutrients are available. Better understanding this complex relationship between agriculture, food, and health is of increasing importance as we face both environmental and health crises ranging from climate change to chronic illness and exorbitant costs due to a primarily reactive healthcare system.
Regenerative food systems – ones that value nutrient density from soil to stomach – are seen as a solution to these challenges and present enormous opportunities for further learning, development, and investment. RFSI's Rooted in Health event will spend two days diving in to the under-explored connection between regenerative agriculture and nutrition, the pathways to improving human health through agriculture that already exist, the work yet to be done, and the investment levers that may be pulled to advance human health and nutrition.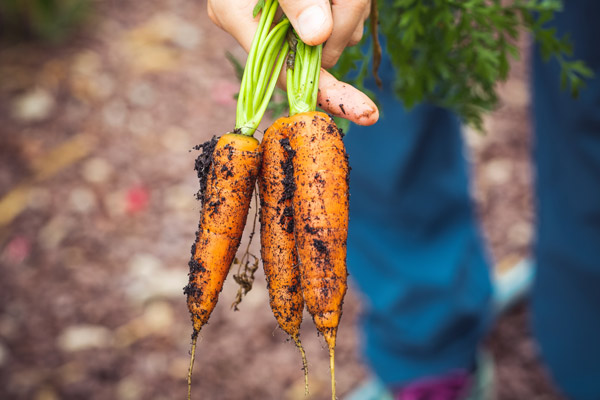 Addressing an issue as complex as this requires a systems-based, multi-stakeholder approach. This event is for investors and practitioners across the agriculture, food, and health spectrum and is designed to provide:
A foundation of understanding of the connections and complexities that exist between agriculture, food, and health
A roadmap for work to be done by various stakeholders involved
An exploration of the investment and funding opportunities that exist along the path from soil to stomach
A vision for what comes next and how you fit in
Agenda | Virtual Program
This event will be held virtually June 22-23 from 9 a.m.-1 p.m. PDT each day. In addition to the learning sessions, each daily program will be followed by opportunities to connect at the end of the program.
Day 1 will focus on framing the problem, making the connection between agricultural practices and human nutrition, and defining the work to be done and who will do the work.
Day 2 will dive deeper into the work to be done, the investment levers that are being pulled right now, and where opportunities exist to advance this space.

Digging in to Agriculture's Ties to Human Health Outcomes
Mandy Ellerton, Bionutrient Food Association, David LeZaks, Croatan Institute; Erin Meyer, Basil's Harvest
The Investment Case for Integrating Soil Health and Human Health
Jyoti Banerjee, North Star Transition
Barriers to Building Healthy Food Pipelines
Eric Jackson, Bionutrient Food Association
Bringing Back Nutritional Wisdom
John Fagan, HRI Labs; Jeremy Goss, Link Market; Brigid Titgemeier
Moderated by: Cheryl Toner, American Heart Association
Nutrient Density from Farm to Body... And What We Still Don't Know
Lee Chae, Brightseed; Dan Kittredge, Bionutrient Food Association; Greg Shewmaker, TeakOrigin
Moderated by: Tina Owens, Danone North America
Program Close & Networking
How Investments in Farmland Can Drive Nutritional Outcomes
Raya Carr, Mint Creek Farm; Dr. Steve Rivard, Iroquois Valley Farmland REIT; Jeff Tkach, Rodale Institute

The Wyse Guys: Two Brothers' Journeys to Regenerative Agriculture Outcomes
Supporting Entrepreneurs in Building Nourishment Economies
Renske Lynde, 1st Course Capital & David Strelneck, Nourish
Moderated by: David LeZaks, Croatan Institute

Policy's Role in Moving from Conversation to Results
Urvashi Rangan, Funders for Regenerative Ag; David Wallinga, Natural Resources Defense Council
Moderated by: Ray Boyle

Panel: Mapping a Path Forward
Program Close & Networking
---
Speakers
We're gathering a diverse group of practitioners and thought-leaders from across the agriculture, food, healthcare, and investment system for an informative and engaging agenda. Please stay-tuned as we announce speakers soon.
THANK YOU TO OUR SPONSORS:
Attending Companies
Connect with others in the space — The ability to chat with others in the audience AND informal networking after the program makes it easy to find new fruitful connections.
---
American Heart Association
Bionutrient Food Association
Endovelicas Health Policy Consultants
Food and Agribusiness Network
FORA and Grace Communications Foundation
FORA, Funders for Regenerative Agriculture
Greater Duval Neighborhood Association
Iroquois Valley Farmland REIT
Lydia B Stokes Foundation
Northside Capital Management
Regenerative Agriculture Alliance
Sri Planning and Investments
The Nourishment Economies Coalition
Trailhead Capital; Regeneration Fund 1
Yggdrasil Land Foundation
Cancellation Policy
What if I have to cancel?
Sorry, no refunds.
If you are unable to attend, your registration may be transferred to someone else with advance notice – please notify our team no later than June 16.
Sharing of registrations is not permissible.
Please send your request to transfer your registration to: info@rfsi-forum.com
More Information
If you have questions or changes please email info@rfsi-forum.com.