Regenerative land stewardship has an important role to play in addressing the climate, pollution, and human health crises brought on, in part, by decades of extractive agriculture and food systems. But we are only at the beginning of what needs to be a massive transition in land management and all hands on deck are needed – including and especially those stewarding our land. Unfortunately, not all land stewards have the same opportunities to participate.
As the food system became more extractive in the U.S., discriminatory policies and practices simultaneously made it harder for some groups to access land on which to farm. In particular, federal programs and policies that excluded Black individuals from purchasing land and discriminatory lending practices that limited access to capital, have led to a significant decline in black farmers. In 1919, Black farm-operators represented 14% (or 925,710 farmers) of all farmers in the U.S. By 2022, representation had dropped to 1% (or 48,697 farmers), according to a 2021 report from McKinsey & Company. Similar struggles for fair financing have affected Indigenous and other People of Color in agriculture, each with their own histories and nuances.
Share of Black Farmers in U.S. Over Time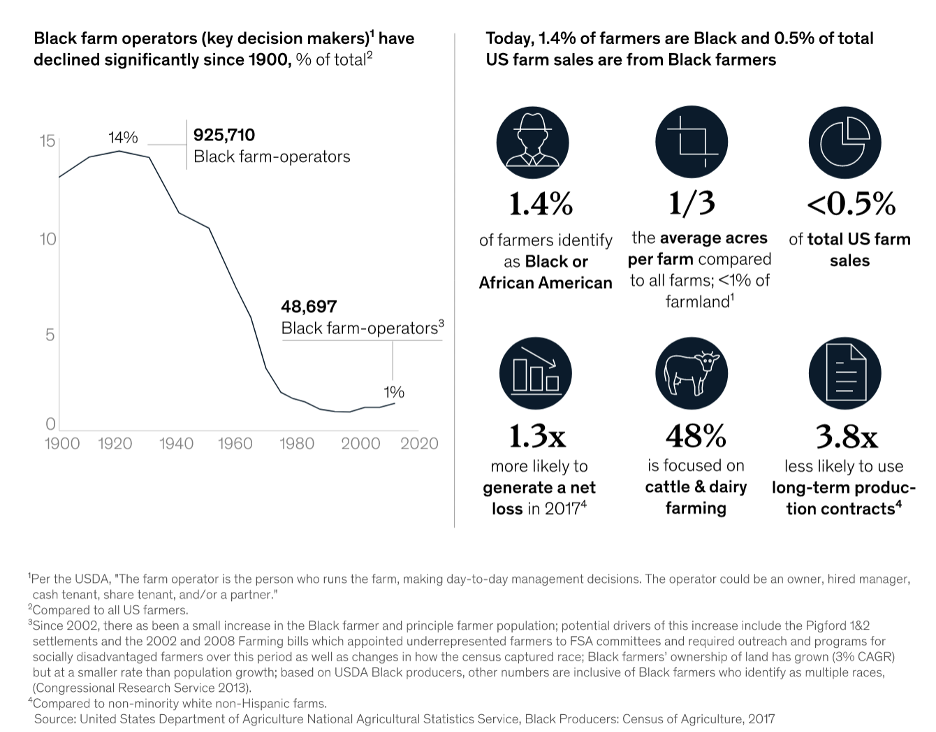 Today, communities on the margins of agriculture – including young, female, or BIPOC farmers – remain underserved but key to the fight against climate change. In particular, BIPOC farmers overwhelmingly express desire to steward their land regeneratively. A 2022 survey by the National Young Farmers Coalition found that 87% of BIPOC young farmers and 88% of Black young farmers said they are motivated to farm in order to steward and regenerative natural resources, compared to 83% of all young farmers. These opposing trends – an especially high desire to manage lands regeneratively but history of declining land access – are working against each other and the goal of overall systemic transition to regenerative.
Iroquois Valley Farmland REIT, a 16-year-old organic farmland investing company with a mission to keep farmers on the land, has now joined a small but growing group of financial companies building programs and strategies to help address these inequities. Using their new Rooted in Regeneration Notes, Iroquois Valley (IQVF) will raise $25 million to support land security for transitioning and organic farmers, and offer mortgage interest discounts to accelerate investment to BIPOC (Black, Indigenous, People of Color) farmers.
"We see a real and urgent need for working lands to play their part in the nexus of the health, wealth, and climate crises," says IQVF's senior relationship manager, Kavita Koppa. "Which means we need to ensure that everyone who is interested and able to steward those lands has the financing to make it possible."
In particular, IQVF recognizes that communities of color are largely left out of the conversation when it comes to organic agriculture despite having been the vanguard of the movement. The new Rooted in Regeneration program is "one small way Iroquois Valley can help rectify decades of financial discrimination that have reduced the land asset base for communities of color. These communities need more explicit support and investment to achieve our shared goals, and mean that we must also increase our impact to meet these challenges," Kavita explains.

Another Way to Serve the Core Mission
Iroquois Valley was founded in 2007, by two former college roommates – David Miller and Dr. Stephen Rivard – who reunited later in life and set out to build a solution to conventional agriculture's ecological and economic degradation, as well as its impacts on public health. With experience as a real estate finance/banking professional and a medical doctor, respectively, the two founders saw an opportunity to bring investor capital to farmers seeking access to organic land and prove that "growing healthy food is good business." They started by offering leases for farmers. Nine years later they expanded into mortgages, and in 2019 started offering lines of credit and operating capital. Today, IQVF is a Public Benefit Corp and certified B Corp that remains committed to working with mission-driven investors to provide organic and regenerative farmers land security.
While the focus is on leases and mortgages, the particular situations that these financial tools can support are diverse and driven by what a particular farmer may need. Claire Mesesan, chief of staff, at Iroquois Valley breaks some of these needs down, "For example, a farmer who's been renting land may reach out because the landowner is looking to sell. They don't want to lose that land, so they approach us about either buying the land and engaging with us on a long-term lease or underwriting a mortgage so they can own the land." They also see interest from farmers looking to expand. "They may bring us that once-in-a-lifetime opportunity to secure their neighbor's land when it comes on the market. Other times, we make investments that support succession planning: young farmers may be buying out their parents or their mentor farmers."
While providing land security to all organic and transitioning farmers remains their core work, throughout their time in business, IQVF has prioritized certain demographics in order to build a diversified portfolio by farmer, generation, operation type, and region. Years ago, they had the Young Farmer Land Access Program, which accelerated their investments in millennial farmers. After that they offered Soil Restoration Notes, which accelerated investments in farmers transitioning to organic and incentivized their investments in soil health and conservation through an investor-funded pool.
Farmer Demographics for Iroquois Valley Investments, 2021

The Rooted in Regeneration Notes are the next step in these efforts. They were initially inspired during the due diligence process with a borrower, a Navy veteran farmer who runs a diversified and conservation-oriented operation. He is involved in farmland conservation work with land trusts, is committed to increasing access to food raised responsibly, and is providing education on farming and food preparation within his community. He was looking at other lending options and qualified for a loan with another lender that was 0.5% lower than IQVF's standard lowest rate. Despite that the farmer liked that IQVF is committed to organic, had good terms, and offered grants, the other loan had a lower interest rate. So, to seal the deal, the farmer asked IQVF to match the lower rate he was offered by the other debt provider and they did.
Claire: "For us, it was a no brainer – this farmer is an ideal match for the work we do and the impact we hope to create, and we're glad we could be a competitive lender and earn his business." And so, the idea for the Rooted in Regenerative Notes was born from this idea of reducing interest rates for under-represented communities.
How It Works
Through existing programs, IQVF already has debt and equity opportunities for investors to gain a stake in a diversified portfolio of organic farmland investments. Both options are structured intentionally to support the goal of securing land for organic farmers. Mortgages already have an interest-only payment period baked in to free up cash flow for the organic transition for the first five years. For the leases, Iroquois Valley lowers the rate during transition years, too. The Rooted in Regeneration program has all the same features but adds one: an interest rate deduction on mortgages available to eligible BIPOC farmers. They accomplish this by diverting a portion of the investor's return to create a pool that is used to fund interest rate deductions for borrowers. The program offers two options for this: the standard option diverts a small portion of the return, and the catalytic option diverts nearly all of the investor's return. The IQVF team explains that the standard option is oriented towards investors who want impact and a return in line with their past note offerings, and the catalytic option is oriented towards investors interested in a higher impact, lower yield opportunity.
For farmers, in order to qualify for the Rooted in Regeneration program, they must meet two criteria: belong to the "socially disadvantaged" category as defined by USDA and demonstrate "exemplary conservation practices," says Kavita. Beyond that, IQVF is size, scale, region, and crop agnostic for all of their opportunities – not just the Rooted in Regeneration Notes – so farmers across the country are eligible. The company targets $500,000 to $1,000,000 deals but is open to smaller and larger deals, especially if there are other positive impacts associated with the farm, such as biodiversity, water quality, or food security for folks without access to fresh food.
Right now, the company has a robust pipeline of farmers in need of the kind of financial partnerships they offer. They owe this to a few things: a 16-year track record of working with farmers to secure land and the word of mouth/referrals that follow this, and an active and adaptive farmer relations team that works with their existing and prospective clients – getting to know their operations and challenges, making visits, and learning about opportunities for reinvestment.
Expanding Impact
The benefits of organic and regenerative agriculture are many-fold – from carbon sequestration to healthier soil and cleaner water, to improved farm economics and more nutritious food – and for IQVF financial returns are inherently tied to these impact outcomes. "Iroquois Valley treats financial and impact returns as interrelated – not two sides of the same coin, but more like two metals that mix into the alloy that makes up the coin," says Kavita. When they assess potential deals, they include the presence of conservation practices as part of what mitigates risk on a property. When they measure success, they include the organic premium of the land in their portfolio.
IQVF remains open to continuing to grow their methods for measuring impact and success so they can better communicate them and continue to evolve their offerings. For example, at present they are the recipients of a USDA NRCS Conservation Innovation Grant (CIG), which includes a partnership with Earth Economics, a company that specializes in valuing ecosystem services. Their expertise will allow IQVF to better measure the value of the conservation practices held in their portfolio. Claire explains, "By demonstrating the value of conservation and soil health practices, our investors and stakeholders can better appreciate the value farmers are creating. The economic valuation of conservation seems to be landing especially well given the climate challenges we currently face, and we hope it will have further effect on curbing the threat of development to viable farmland."
To date, IQVF has worked with more than 110 farmers in 20 states supporting organic farmers at all levels of the food system and doing important work for their soils, ecosystems, and local economies. The Rooted in Regeneration Notes will expand their reach and impact by bringing more capital to underserved communities.
"The RnR Notes continue our theme of evolving, not reacting, to the barriers and challenges we hear that organic farmers are facing. We are excited to take this step to make organic and regenerative farm finance more inclusive," says Kavita.
Since the launch of the Notes in mid-July, IQVF has sold almost $2 million and with a $25 million offering, there is still sufficient availability for anyone – institutions and individuals, and via IRAs for individuals – who are interested in supporting BIPOC organic farmers.
Many current investors have committed capital to the Notes, and IQVF has also received capital from new investors. Nicole Middleton Holloway, a financial advisor in the IQVF network from Natural Investments, has shared the value of this new Note to their clients, "My clients appreciate IVF's commitment to farmers and to the well-being of our communities and our ecosystems. Our clients are investing in IQVF's Rooted in Regeneration Notes because they are a unique/innovative product, specifically focused on investing in BIPOC land stewardship and removing systemic barriers that have made it challenging for BIPOC farmers to access land and capital."
Beyond investors, IVF also continues to prioritize new partnerships that can help increase the reach and efficacy of their work. "Like many companies, we are actively learning what our role has been in unintentionally perpetuating unequitable finance practices," says Kavita. "Part of this process requires acknowledging what we know and what we do not. Iroquois Valley has been and continues to be a white-led company that has not worked on the ground in Black, Indigenous, and People of Color farmer communities." They also know what does lie in their wheelhouse: leveraging the will and capital of impact-oriented investors to create specialized financial products for organic farmers.
To that end, they are actively seeking BIPOC-led and BIPOC-serving organizations to partner with in order to elevate the work they have been doing. "Iroquois Valley is excited and eager to build trusting and equitable relationships with these organizations to deploy resources to those who need, deserve, and have been denied them for too long," says Kavita.
"It's past time for investors like us to make sure our products match the needs of these folks for the betterment of everyone." The Rooted in Regeneration Notes is a critical step in leading the farmland investment space in this direction.
---
Sarah Day Levesque is Managing Director at RFSI & Editor of RFSI News. She can be reached here.