In Part 1 of The Rise of Regenerative CPG series, we learned that the massive momentum for regenerative agriculture adoption coupled with the incredibly small amount of existing regenerative CPG brands is driving three investment opportunities in the industry: Disruption, Reform, and Enablement. We looked deeper into the "Disruption" investment opportunity – that is, funding and supporting new early-stage brands that are challenging the status quo. These new entrants seek to grab market share from incumbents and grow their businesses to profitability and potentially a successful exit.
At Outlaw Ventures, a family office backing the rebels, radicals, and revolutionaries building the better food system of tomorrow, we are actively making early-stage investments into regenerative CPG brands. We believe that CPG companies offer a highly tangible, impactful, and vital avenue for investing in the regenerative transformation of our food system.
Consumer packaged goods will continue to be a huge piece of the American food landscape for years to come. According to Grandview Research, "The U.S. packaged food market size was valued at USD 996.56 billion in 2020 and is expected to expand at a compound annual growth rate (CAGR) of 4.1% from 2021 to 2028." Farmers and ranchers produce ingredients and end products demanded by this market, so there will be no transition to regenerative production unless we have an end-market for these farm outputs. This is why Mad Agriculture formed their Mad Markets team to help ensure the successful transition of their farmer borrowers to regenerative organic through end market access. This in turn helps ensure Mad Ag's returns as an operating capital lender to these farmers through the Perennial Fund. Packaged products with a brand are also the broadest leverage point in the food system to teach consumers about regenerative agriculture and its importance while inspiring brand loyalty to these companies with regenerative supply chains.
Not to mention that the majority of growth in this category is coming from these sorts of brands, with sustainability-marketed products being responsible for more than half of the growth in consumer packaged goods (CPGs) from 2015 to 2019. There should also be a robust opportunity for successful exits, as "M&A activity in the food and beverage space remained robust during 2021, while emerging CPG brands with a health and wellness focus were snapped up by consumer giants in historic deal values."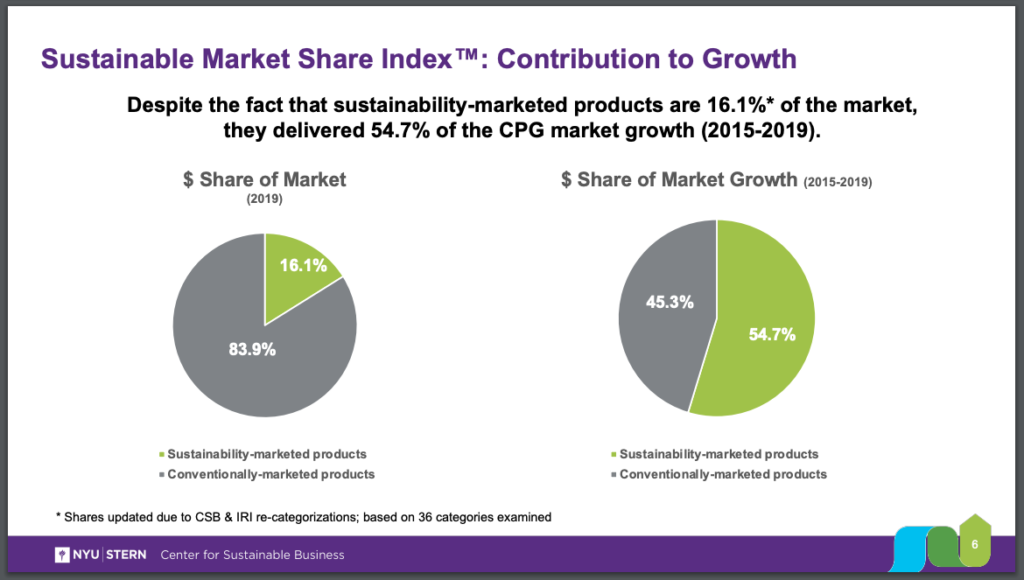 What are the top three things we look for to greenlight an investment in an early-stage, regenerative CPG investment opportunity?
Large TAMs (total addressable market)
Highly differentiated products with an exceptional consumer experience
Unique supply chains with high integrity and storytelling potential
Let's see what we can learn about the opportunity for disruptive CPG brands by exploring the Outlaw Ventures' portfolio.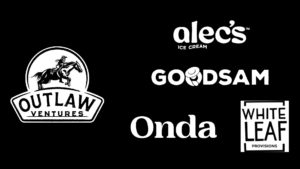 Portfolio Company: Alec's Ice Cream:
Alec's is both Land To Market Verified and Regenerative Organic Certified, touting 98% of its ingredients as certified regenerative. The company just recently refreshed its branding via their website and product packaging to better showcase their regenerative and A2 dairy attributes – due to sourcing their main ingredient, milk, from Alexandre Family Farms. Alec's supply chain is propped up by strong, proven, regenerative ingredient partners. They have also vertically integrated production to increase control over sourcing, product quality, and enable the ability to scale quickly. Being the first certified regenerative ice cream to enter the market is a distinct advantage, and Alec's boasts some extremely indulgent and unique flavors like my personal favorite, Honey Blueberry Lavender. Plus, at the end of the day, I just REALLY REALLY LOVE ICE CREAM, and so does the average American consumer.
BONUS BRAND: Another player to watch who is using Alexandre's existing regenerative supply chain to create a new product is Cheddies. Their verified Land To Market cheese crackers are made with cheddar cheese produced with Alexandre Family Farms' regenerative dairy as well.
Portfolio Company: GoodSAM Foods:
GoodSAM is contrarian when it comes to regenerative certifications, claiming the current programs don't meet the needs and realities of their farmer partners in Colombia and Kenya. The brand goes beyond "fair trade" and instead has "direct trade" relationships for all of the ingredients in their chocolate, coffee, and macadamia nut products. If you watched CEO Heather Terry's pitch at the Expo West Pitch Slam, then you would know exactly why we are bullish on GoodSAM Foods. Heather is a force, and she is leading GoodSAM's growth strategy with incredible efficacy based on her previous experience in the same CPG category with NibMor. Legacy investors in CPG may see GoodSAM's exposures to so many categories as a risk, but we could not disagree more. From a production perspective, it allows them to actually support biodiverse growing operations while ensuring a single outlet for their producers' crops (the same reason why Dr. Bronner's started selling chocolate bars). In addition, as retailers see more pressure to shift sourcing regenerative, they will be looking for "hero brands" that offer products in multiple categories. These brands can provide innovative solutions in advertising, promotions, and merchandising. It won't be long before we see retailers with full, promotional endcaps containing all the amazing, regenerative products that GoodSAM Foods has to offer. Kyle Krull @ Regen Coalition is already accomplishing this with retailers like Earthfare and Erewhon by facilitating group regenerative agriculture promotions in collaboration with Regen Coalition's brand members.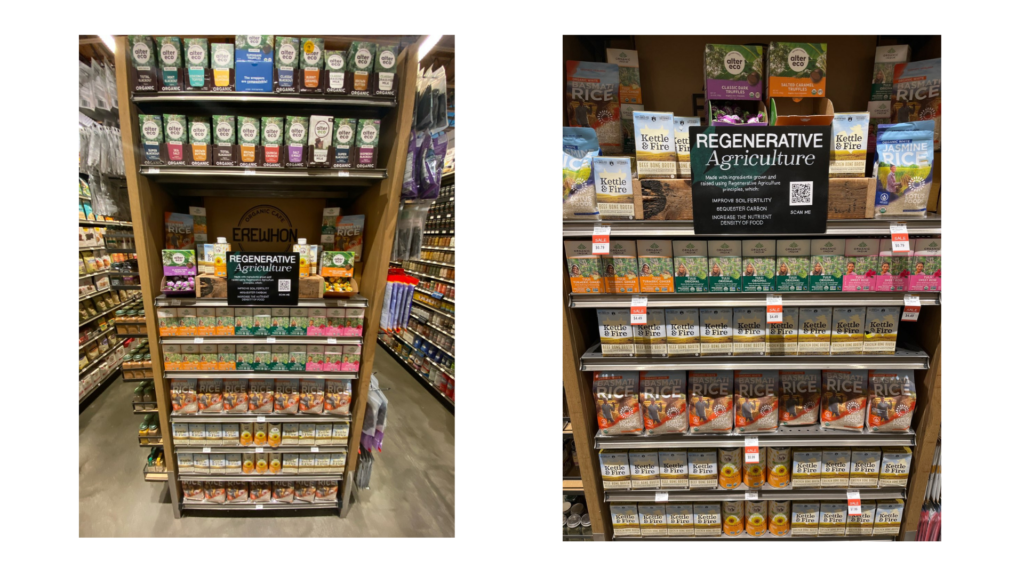 BONUS BRAND: Another player to watch who is supporting regenerative agroforestry in South America is AMAZ – CEO Gustavo Nader participated in the Expo West Pitch Slam as well, and I was impressed by their products, brand, early traction, and commitment to supporting the regenerative future of Brazil.
Portfolio Company: White Leaf Provisions
White Leaf touts itself as regenerative through its biodynamic certification from Demeter USA and its USDA organic seal. Outlaw Ventures is invested in White Leaf Provisions through our investment in Trailhead Capital's Regeneration Fund 1. We are bullish on White Leaf due to the fact that the baby food business is exploding while simultaneously there are major concerns surfacing about the cleanliness, safety, and toxicity of the current offerings on the market. The opportunity for White Leaf is bigger than just baby food, however. During a recent visit to LA, I found myself purchasing some White Leaf Provisions' baby food pouches at Erewhon then consuming them during my lunch break at WeWork. News flash…I am not a baby. With that in mind, White Leaf has plans to expand their products into more categories soon and truly embody a full line of "provisions" as their name states. This transition gives them the same opportunity to become a regenerative "hero brand," as I outlined for GoodSAM Foods above.
Portfolio Company: Onda
Onda is verified regenerative through the Land To Market program and is also the world's first certified biodynamic hemp CBD oil. "Onda's mission is to heal the people, empower our farmers, and support the regeneration of the Earth." After I had used multiple Onda products, my message for CEO Stephen Smith was simple – "This stuff is the wagyu of CBD!" As a former Division 1 athlete, I have had my fair share of CBD products. NOTHING has the efficacy, flavor, and purity that Onda has. It is a great example of building with the classic, winning CPG playbook in mind that we discussed in Part 1 (look, taste, and results). Like Gary Friedman, CEO of Restoration Hardware has said, "I've learned that if you focus on being great, on doing something exceptional—typically, there will always be a way to monetize the exceptional."
These four members of the Outlaw Venture's portfolio are brands we see as businesses with the capacity to provide substantial financial returns while having a positive impact on human and environmental health – helping to produce the regenerative transformation of our food system. We look forward to continuing to add new, innovative brands to our portfolio.
---
Did you miss Part 1: Investigating the Opportunity? Check it out here.
Anthony Corsaro is Director of Business Development at RFSI & Managing Director of Outlaw Ventures. He can be reached via email here or on LinkedIn.
---
Nothing in this informational article is an offer or solicitation to buy or sell any security. Although this article may include investment related information, nothing in it is a recommendation that you purchase, sell or hold any security or any other investment or that you pursue an investment style or strategy. Regenerative Food Systems Investment (RFSI) does not give any advice or make any representation through this information as to whether any security or investment is suitable to you or will be profitable and may have commercial relationships with companies named herein. Nothing in this article is intended to be, and you should not consider anything contained herein to be investment, accounting, tax, or legal advice. If you would like investment, accounting, tax, or legal advice, you should consult with your financial advisors, accountants, or attorneys regarding your individual circumstances and needs. The past performance of any investment, investment strategy or investment style is not indicative of future performance.