How Pelican Ag aims to spark change from farm to fork to restore the balance of food, nature, health and planet.
Four years ago, Chris Ramsay and Simon Evill were on separate paths. One was a Blackrock, Jupiter and CCAM alumni, had raised $1.8 B for 5 funds, grown 30+ companies, and served as a trustee to a 7,000-acre farm; the other was leading early-stage impact investment, had vetted 1,000 early-stage impact deals, and due-diligenced 50+ of those. Their paths converged just one year later during the Covid-19 pandemic. This meeting ultimately led the pair to partner in an effort to apply their complimentary expertise and talent to something that is critically needed in the UK: investment in building regenerative food systems.
With a mutual desire to create real and lasting impact for human health and the planet, the two have launched Pelican Ag – the UK's first VC firm exclusively focused on regenerative and sustainable food systems. Pelican Ag invests in early stage (pre-seed, seed, and Series A) across the agriculture and food systems for outsized impact and returns.
RFSI had the opportunity to sit down with co-founder Chris Ramsay of the UK's newest regenerative food and ag VC firm to talk about what brought them to this emerging space.
RFSI: What brought you two together to create Pelican Ag?
Christopher Ramsay (CR): As soil obsessives, Simon and I were introduced by a number of friends and ex-colleagues during the first UK lockdown. It was abundantly clear from our first conversations that we were on a collision course, having both advised numerous sustainable food & ag start-ups.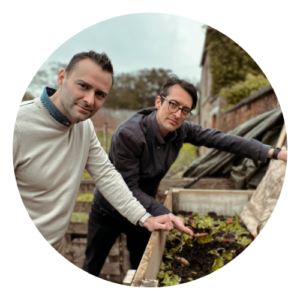 We're both hippies at heart, we'd both been healed by the land, whether forced by a poor gut health into learning to eat 'healthy food' or having been brought up on a market garden growing 'healthy food'. We shared a passion for the space, and at the same time the chance to set up the UK's first regenerative food & ag VC, made glaring sense:
On a daily basis, we could see the ever-growing influx of fantastic businesses looking for focused investors to help their cause.
The market opportunity, the number of exceptional founders needing focused backing, was significant enough to need a £50m fund.
We've now got well over 500 companies in our pipeline with over £9bn in total estimated-next-round funding requirements. Part of our job is to get more generalist investors to realize this opportunity.
RFSI: Why did you care so much?

CR: Because we'd gone down the wormholes of having bad guts with little to no holistic advice from leading gastroenterologists. We began to understand the acuteness of the health crisis's relationship to healthy soils, and what soil and organic carbon can do for weather and climate.
The exciting piece is that the farming, corporate, government and consumer worlds are finally converging in agreement that we can't have healthy people without healthy soils. Regardless of what the future of food looks like.
Still a long way to go on that front, we've advised ministers at Westminster as an example, but the attention is still on 'clean meat, alt protein, vertical farming' vs regeneration and the brilliant companies building nature.
RFSI: What is your shared mission?
CR: Our shared mission became clear: how can we build attention on the importance of building our soils, bringing people closer to where food comes from, how it's grown, how to cook, how to expect higher standards, how to make delicious, nutritious food affordable, whilst at the same time bringing the true cost of industrial grown food to the fore? How can we eat nutritionally at scale? How can we rebuild rural communities and place the farmer as central to the healthy future or our planet, children and selves?
The UK is a brilliant tapestry of small, mid and large size farms, with high welfare standards and an engaged farming community. On the other hand, we still have the leading tech ecosystem in Europe, whilst being the most naturally depleted country in Europe, with an increasing health crisis. The stat that really blew me away regarding food poverty in this country, is from Prof. Tim Laing who shows that the UK has the highest percentage of severely food insecure households for children under 15 years of age, in the whole of Europe!
So, our mission to shift our food systems to climate friendly farming that could produce affordable, nutritious food couldn't be stronger.
RFSI: Why is now the time for VC investment in the sustainable ag/regen space?
CR: Because our entire understanding of what a sustainable food system is has just been turned on its head: whether the science around microbiomes and the trophic cascade, our planet's heat & hydrology dynamics and soil's role in retaining water in the landscape, nutrient cycling, supply chain digitization, waste, and how to educate and shift consumer behavior.
Across the farm to fork value chain there's total upheaval, and it is entrepreneurs who take this new science, or ways of farming and production, and provide answers. As the only VC fund focused on regenerating farming and producing healthy produce, we've become somewhat of a watering hole for these founders and their solutions. There's never been more examples of founders taking a specific problem and solving it for our sustainable farming future – buoyed by corporates migrating to better supply chains, governments starting to legislate or consumers demanding. The need to provide focused support to this ever-increasing crop of wildly capable founders, already supplying a part of the ladder to a sustainable farming future, has never been louder.
RFSI: What is your theory of change?
CR: We think that hydrology and water have been largely ignored when it comes to investment dollars spent in the VC ecosystem. The work of people like Walter Jehne and Joel Salatin explaining the potential for restoring the world's small and large water cycles by restoring farmland is hugely compelling, and without over-laboring the point, is the great solution to our climate crisis. Carbon atoms are hydrophilic, so increasing soil organic carbon increases the soil's ability to act as a sponge holding water in the landscape and restoring functional water systems. Systems that ultimately cool the planet and allow nature to thrive.
Nutrition is our second tenant. How much have our bodies missed having decades of eating food grown without the nutrient profile we evolved to need? We have health crises across the Western world, we simply cannot thrive as humans, unless our every bodily process gets the nutrition it evolved with. So, growing calory rich but phyto and micronutrient poor food, as our highly efficient industrialized agricultural system currently does, is only feeding the health crisis. How can we scale the growing of nutrient dense & diverse foods, that build soil, asap? Well, there are thousands of founders out there all offering pieces to the solution.
RFSI: What makes Pelican Ag uniquely positioned to serve this mission?
CR: Simon and I have been in this early-stage ecosystem of regen food and ag since it became investable. We don't need to be experts in each field to understand the business and see its potential, as focused investors with deep roots in the regenerative food space, we're often able to help the founders disproportionately. Whether introducing them to commercial partners, leading science, government & Defra, farming & landowning communities, other founders and useful investors. We've pulled together a team of brilliant advisors who span the largest organic farmers, GPs at top VCs, Impact PE founders, heads of sustainability and food at multinationals and leading foundations etc. We then have two hyper-experienced venture partners who sit on our investment committee, making sure our rationale is sound throughout the investment process. Both highly technical, one was CEO at a leading mid-market PE firm for a decade and the other 9 years running a significant VC portfolio for a public pension fund.
RFSI: What can you share about the capital you are raising?
CR: We're raising £50m from regen forward corporates, institutions, families and foundations, across dairy, FMCG & farming, as well as investment firms who invest later-stage and will benefit from our pipeline and network. The mainstay are the brilliant family offices and foundations who've come to recognize the keystone position of regenerative agriculture to our future. We've been backed thus far by a leading global food firm and the UK's largest organic brand amongst others.
RFSI: What kind of companies are you seeking to invest in and why?
CR: We aim for companies already offering a sustainable alternative, from farm to fork. We like IP, we like clear business models, we like teams that have exceeded expectations and have the it factor. We're sector agnostic though the on-farm software component is high as Monitoring, Reporting and Valuation is so critical. So, whether bio-inputs or soil testing through to platforms for regenerative products, we're keen to build a balanced portfolio of 20-30 companies over the next 4-5 years.
RFSI: You've already funded four very different but innovative companies – what attracted you to these companies?
CR: Pelican Ag's latest investments include regenerative transition financiers, Mad Capital, from Boulder, Colorado. They're the loudest node for U.S. small holders transitioning to regenerative; they've deployed their Perennial fund of $10m and are aiming at regenerating 10m hectares on preferential rates. Investing alongside sector experts like Trailhead amongst others.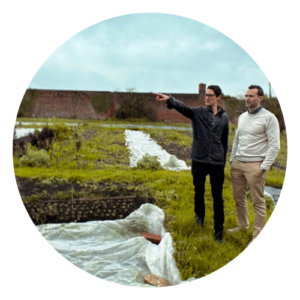 Virtual fencing company NoFence was our second investment – a $13m round, they invested alongside Patagonia's Tin Shed Ventures, Sandwater & Momentum as an answer to scaling holistic grazing. Putting livestock at the center of regenerating soil, these collars mimic the predator-prey relationship for ruminants including cows, sheep and goats, to be moved around a landscape frequently and intensely, increasing carbon drawdown, root growth and nutrient pick up. All from an iPad, saving cost and time moving fence posts by hand.
FA Bio, our latest, is a fungal microbe discover platform replacing synthetic fertilizers and pesticides in Big Ag; with more efficacious, cheaper, natural fungal products to be used in existing machinery. Again, investing alongside sector experts.
RFSI: What gaps do you see that present emerging opportunities for investment in this space?
CR: The whole value chain is crying out for innovation. So, we're spoilt for choice and though we try to lead with careful sector road mapping, it's the specific founders that inevitably convince us. Right now, the need for monitoring, reporting and valuing ecosystem health is vital to the maturing of markets within biodiversity, water and carbon. We're hesitant to back a carbon market but do see the measurement of soil and how technologies will be stacked, as being something that will happen sooner than we think. At the other end of the value chain, we see the need for a platform producing and promoting regen produce, and how to make it easier for consumers to buy and engage with regen products.
RFSI: What does success look like for you?
CR: Being able to bring 25 founders together in a year's time and clearly chart for each one how we at Pelican Ag have helped further their mission and impact. Having a marked effect on shifting parts of our farming system for the better. And having brought far more investor attention and dollar into the regen space.
RFSI: Why do you choose to stay positive about the future of the food system?
CR: Simple, because on a daily basis, we're lucky enough to meet the founders already delivering a part of the future sustainable food system, and inspiring others to do the same. Our jobs to try and get air under the wings of the winners.
---
Learn more about Pelican Ag here.
---
Sarah Day Levesque is Managing Director at RFSI & Editor of RFSI News. She can be reached here.