The concept of regenerative agriculture has hit the mainstream food industry… but there's work to be done to figure out what to do with it. This was an overall response from the first Regenerative Agriculture & Food System Summit, which took place in Amsterdam last week and brought stakeholders from across the food industry together with the intention of building understanding and partnerships to accelerate regenerative agriculture.
The diverse audience – which included sustainability experts from multi-national ingredient and food corporates, innovative solution-builders in regenerative agriculture, investors, farmers, and others – were full of both energy and hope for the potential that regenerative agriculture presents, as well as a healthy (and expected) amount of discord on the best way to get there. The RFSI team was on site at the event to learn about the emerging regenerative food system in Europe and to connect with the stakeholders building the system in that region. We found it to be a fruitful intersection of perspectives and walked away with some key take aways and thoughts for the future development of the space.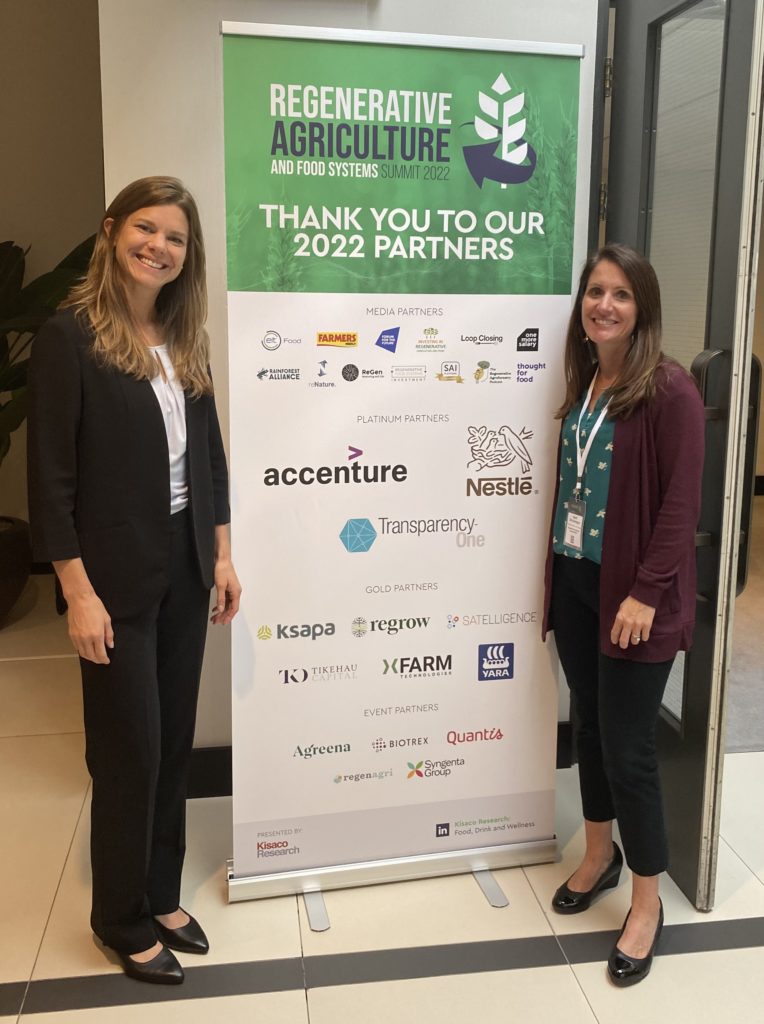 Key Take Aways:
1.    Climate is the driving force behind interest in regenerative agriculture but there is room to continue to educate on other benefits. Most notably, there is significant opportunity to expand the dialogue around the human health and nutrition benefits of regenerative agriculture. Increased data – such as what is found in this 2022 journal article or from the work at Bionutrient Institute – will help feed the development of this conversation.
2. Corporates know they need to find answers but many are still working on the path forward for their operations in regenerative agriculture. Three things seem to delay this process: 1. A disconnect between the companies and farmers 2. That many of the people working on sustainability and regenerative within the multi-national organizations are still operating in a silo within the larger operations and have a heavy lift to get their colleagues on board. 3. The need for data to support and inform corporate strategies to transition supply chains.
3. Financing the transition, especially at the farm level, is still very much unresolved and top of mind. This challenge came up repeatedly from speakers in all parts of the value chain but the who and how remained largely unresolved, indicating there is tremendous potential for new investment and financing solutions to help drive transition.
4. The time for pilots has passed. More action and faster, was the resounding call from the community, fueled by the urgency of the global climate and ecological catastrophe we face. Balancing this urgency for action with the data and information needs of larger companies that need to be part of the solution is one of the biggest challenges we face in food system transformation at scale.
What to DO:
Our biggest take-away from the event was that the time is ripe to build the regenerative food system in Europe. The momentum that is growing around regenerative both in Europe and around the world presents opportunity – no imperative – for diverse stakeholders at the table to take action. Here are some simple first steps we see:
Corporates: Have more conversations with farmers. The disconnect is stark and more dialogue will lead to more understanding, and (hopefully) more answers for how to scale regeneration collaboratively. Make sure sustainability teams are working cross functionally with procurement, operations, and leadership to create lasting strategies that tie into the larger goals of the business.
Tech providers: Collaborate and make sure you are bringing needed and non-duplicative services to the space. Center farmer accessibility and profitability in product development and commercialization efforts.
Investors: There's a large funding/financing gap – now is the time to innovate with new models of how investment capital can fill this gap. Need ideas? Let us know.
Farmers: Share your story – your realities, your challenges, your victories – wherever and whenever you can.
There's no more time to stand still, let's regenerate!
---
Sarah Day Levesque is Managing Director at RFSI & Editor of RFSI News. She can be reached here.