In 2019, we brought the idea of Regenerative Food Systems Investment (RFSI) to fruition in Oakland, CA. Our goal was to catalyze increased interest in and capital allocation to investments in regenerative agriculture and food systems. Fast forward five years, and we have intentionally built a big tent for capital allocators and solution builders to gather for this purpose. The latest outcome was our 5th annual RFSI Forum, held September 26-27 in Denver, that brought together 450 sector stakeholders to dig into what we have learned to this point, how we can work together to continue to bring appropriate capital to regenerative systems, and where to go next. This year's event featured a new pre-event RFSI Bootcamp, which brought 80 farmers, ranchers and early-stage companies together with diverse funders to learn about the regenerative capital ecosystem. The Bootcamp was followed by two days of Forum programming and a final day that featured a small-group farm tour of two different regenerative farm operations in Boulder County.
Robust dialogue between diverse stakeholders and in varied formats led to many learnings ripe for application across the space. Here are some of the key themes we took away from the 2023 Regenerative Food Systems Investment Forum.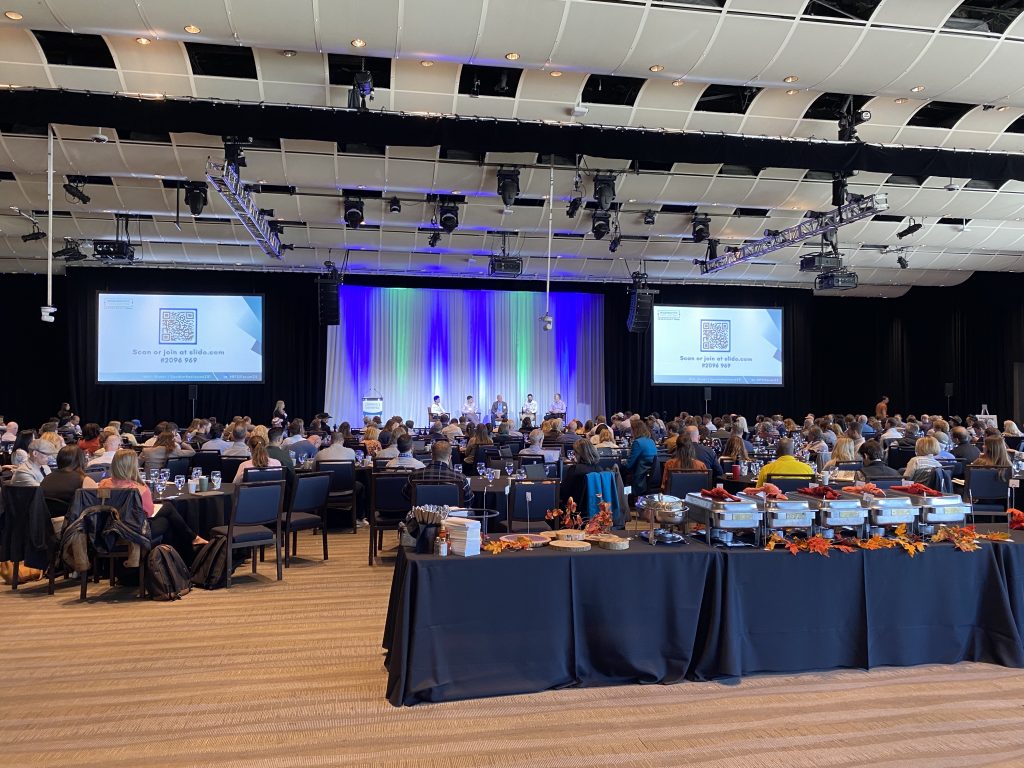 Closing the Gap Between Farmers and Funders
With this year's program we took another step towards closing the seemingly enormous language and understanding gap between farmers and funders. The pre-event Bootcamp on Sept. 25 kicked off these efforts – allowing farmers and others to explore different types of capital (debt, real asset, venture, philanthropy, and public funding) and the different vehicles that each offer. Attendees had the opportunity to hear not only from capital providers but also from others like them who have already been down the fundraising journey.
The RFSI Forum kicked off on Sept. 26 with an audience that was 11% farmers and ranchers – up from about 5% in 2022. The perspectives of diverse land stewards was felt throughout the program – starting with the opening panel discussion led by John Kempf and carried on in case studies and panel discussions throughout, leading to several key insights.
Oregon farmer, Cate Havstad-Casad, emphasized that producers can't be creative and thoughtfully steward land and food if they themselves are "unwell," underlining the need for capital allocators and the entire system to prioritize farmer well-being. This aligned deeply with John Kempf's cry for us to "regenerate the capacity for stewardship."
Rancher and USDA certified meat processor, Keith Nantz, reminded us that most farmers aren't looking for an exit. His words: "I don't have an exit, my exit is when I die." And while these words remain true for most producers, producers are key to the expansion of regenerative food systems and capital is often a missing link to their ability to grow their operations. The investment and finance picture needs to look different to account for this unique position.
Cate also called on us to consider: what are we willing to pay for the future we want? A grounding message to keep in mind throughout the program and in all efforts to expand regeneration.
The Middle is Messy … But Critically Important
The importance of building an essential middle to the regenerative food and fiber supply chain – in other words, everything that happens between the farm and the fork, such as processing, infrastructure and distribution – has come to the fore in the past 12 months especially, and was a central theme across discussions at the Forum.
A panel discussion among supply chain operators and capital allocators led by Tim Crosby of TIFS and Thread Fund explored the complexities of funding operations in the middle of the supply system and what is necessary to take steps forward in investment in this space. Charley Cummings, founder and CEO of Walden Mutual, explained that the "missing middle" is the key to functional, local ecosystems; and Phil Taylor, co-founder of Mad Agriculture, Mad Capital, and Mad Markets emphasized that farmers that are regenerating land and communities absolutely depend on the middle supply chain to act as the funnels for their products and to premium markets.
Tim shared an anecdote from one investor who was considering an investment in a mill: "That sounds risky," the investor said, "I might as well bet on a tech unicorn." This, Tim explained, is where we need to work to educate ourselves on the different definitions of risk, return, efficiency, and scale. Capital for the middle has to fit a systems approach. We need to recognize that we are trying to build capital stacks to not just fit a specific operation but capital stacks that fits an entire system or web of activities. It's understandable, then, why investing here is so complex. But, as Phil added to the conversation, we also need more investors willing to roll up their sleeves and get comfortable with this complexity and the bespoke nature of where we are. The opportunity for regenerative outcomes is there.
In a separate conversation, Cindy Tolle of Evergreen Ranching explained how her vertically integrated model of ranching has not only helped her operations viability by opening up new value streams but has helped provide services and security for operations across her region. Chris Zuehlsdorff of Iroquois Valley Farmland REIT echoed that this makes for a more attractive investment for their debt offerings both from an impact perspective and financial perspective.
Risk Needs to Fit the Ecosystem
Risk is inherent in both farming and investing. Historically, capital has not necessarily accounted for risk on the farmer or operator side, and in agriculture in particular the risk of transition is a deterrent. Thinking how we approach risk in financial partnerships and in integrated capital stacks was an underlying theme.
A discussion session, led by Soil & Climate Initiative dug into the different types of risk across both operators and funders and explored the role that service providers – and market development initiatives in particular – can play in helping mitigate risk at farm level and for those looking to fund operators.
Tim Crosby and Sara Balawajder explained their roles at Thread Fund and Luke Walton's family office Builders Vision, respectively, as de-risking initiatives for follow-on investors. But Sara did emphasize her fear of being the only one at the table. They can't invest this more concessionary capital, if they don't believe that other capital will follow.
Collaboration and partnership between capital providers and operators, as well as holistic investment approaches (as opposed to siloed investments), is what Keith Nantz called for in order to de-risk investments in the space.
And speaking of collaboration…
Collaborative Integrated Capital Stacks Elevate Impact and Project Success
Kat Taylor of TomKat Foundation, FAS Administrator Zach Ducheneaux and Potlikker Capital's Mark Watson shared an articulate and insightful case study of how collaboration between private capital, public capital, and intermediaries can create rich and impactful capital stacks for farm operators like Louisiana farmer Donna Isaacs. Kat explained how intermediaries, like Potlikker Capital, play a key role in sourcing and vetting individual farm investments – a job that large scale private capital like TomKat Foundation (TKF) might not be equipped to do otherwise. The panelists also explained, through Donna's funding journey, the role the different types of capital delivered through different vehicles – public and private – can facilitate on-farm transformation.
Carrying on this theme of collaborative capital, Sara Balawajder later explained that she would like other investors to understand that the element of building integrated capital stacks with different risk/return profile expectations is a big challenge. In particular, getting all players to the table at the right point is especially hard but education and pilot cases that prove the opportunity is a huge part of getting these players. If you can indeed figure out that secret recipe to accomplish this, there is huge potential to scale regional projects and expanding regenerative.
Consumer Demand is Key and Under-Developed
Both operators and funders reiterated the need for increased consumer demand to both enable operations, such as producers and processors, to transition with the security of pull-through / known off-takers AND to ensure funders who invest in these operations – whether it's debt, equity or grant capital – that their investments will have the cash flow to stay in business and grow.
Sherry Frey of NeilsenIQ shared that regenerative agriculture is one of the fastest growing claims across stores today. She also explained that since the Covid pandemic consumers are increasingly weaving their health to the health of the planet, they are increasingly tying health and wellness to regenerative agriculture, and they are concerned with democratizing wellness.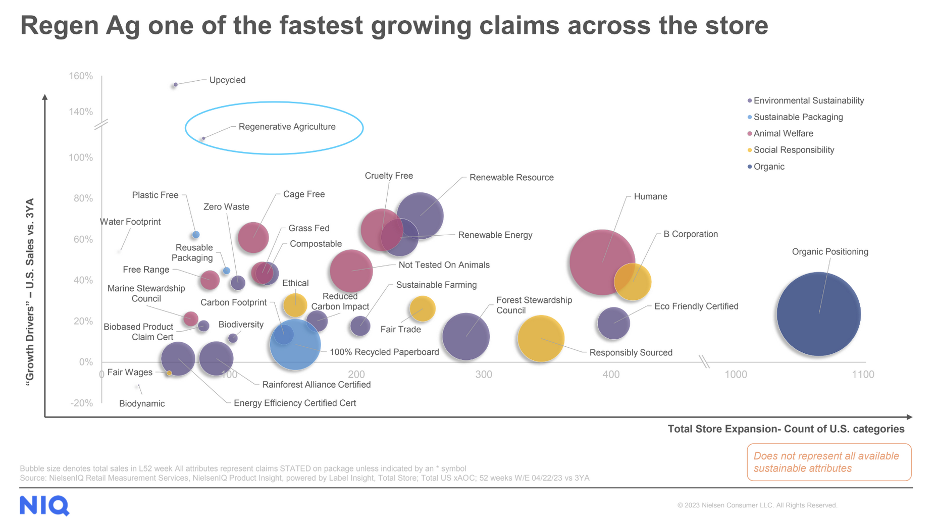 So how do we drive consumer awareness and demand for regenerative agriculture? Some of the answers presented at Forum include:
By supporting emerging brands who are leading communication to consumers
Creating aligned and shared messaging and marketing across brands
Continuing to support research on the larger food as medicine space and the relationship between agricultural production and handling and nutrition density
Relationships Are Central to Scaling Capital
More than any other year to date, relationships were front and center at this year's Forum. Keith Nantz highlighted this when he closed his panel discussion with the answer to what gives him hope: "the human capital that is at work getting this done."
Kat Taylor, Administrator Ducheneaux and Mark Watson also recognized this importance when they acknowledged that much of the integrated capital allocation that came to fruition in their case came to be because of what were initially informal relationships that developed into powerful partnerships.
And lastly, Ethan Steinberg of Propagate, Hallie Fox of The Nest, and Chris Ramsay of Pelican Ag separately acknowledged the importance of networks and sharing them with others in advancing this space. Ethan urged fundraisers at the RFSI Bootcamp to consider the "no's" they get from investors as "not yets" and then be sure to leverage relationships those investors may have. Hallie Fox explained that while their family office can't possibly invest in all the opportunities that come across their desks, they do make a lot of introductions to other potential funders or partners. And Chris made a call for investors in the space to reach outside of the regenerative investor networks and share with climate investors and others the importance of investments in regenerative. This, he said, is the key to growing the scale of capital flowing to regenerative.
How Far We've Come… Examples of Capital Being Activated
Over the past five years, the number of examples of capital investment into regenerative agriculture and food systems has increased and this year's program featured example after example of just how much this space has evolved. In addition to the case of public and private funding into Donna Isaac's operation and the debt capital from Iroquois Valley for Cindy Tolle's operations, we heard about Terra Regenerative Capital's ecosystems approach to investing, and specifically their investment in Tree Range Farms.
In addition to individual investments, we learned about new vehicles, including new regenerative agriculture and carbon fund launched by a new partnership between SLM Partners and Impact Ag Partners, the Fibers Fund led by Teju Adisa-Farrar and Sarah Kelley, and Black Farmer Fund's second fund aimed at raising capital for black farmer and food operators in the Northeast, as well as Intrinsic Exchange Group's efforts to build a natural capital asset class on the New York Stock Exchange (NYSE), among many other innovative activities.
A Few Notes on Capital Scale…
The question "when will capital come to regenerative food systems at scale?" has been a theme throughout the past five years in the space and this year it felt like the conversation became more sophisticated and realistic. Case in point was the acknowledgement by several different funders, who are already allocating capital at some scale, that larger scale investments mean more work on the front end for investors. Stephen Hohenrieder of Grounded Capital, for example, explained the due diligence on a $50 million equity investment in an established company will take much longer than the typically much smaller check sizes. So how do we support larger pools of capital through this process? For Kat Taylor, who may be allocating larger sums of money but across many different operations, the answer is to work through intermediaries who can do that due diligence for you.
Keith Nantz offered another angle to investment at scale – the processors perspective. He emphasized the need for institutional buyers and large off-take/wholesale agreements from things like the SNAP program to provide the cash to keep processing machines working. These agreements for throughput will enable operators to get more creative and expand.
Stephen also reminded us of his concept of there being a spectrum from convention to aspiration. We may not be all the way there yet but making room for convention to aspire and work toward regeneration has potential for outsized impact.
Are We Really Willing to Think About Things Differently?
Lastly, we'll leave you with a key question we should all be asking ourselves from friend and RFSI advisor, Anthony Corsaro… are we really willing to think about things differently?
Everything we aspire to in regenerative food systems requires us to look outside of the way we have done things for the past five-plus decades. The mindset shift necessary here is not limited to the way we produce our food on the farm. It extends to how we build a regenerative middle, how we support emerging regenerative brands, how we create more equitable access to resources, capital and regenerative products… and especially to how we think about the capital relationships and expectations.
---
Sarah Day Levesque is Managing Director at RFSI & Editor of RFSI News. She can be reached here.