Meet the Activator is a regular series designed to highlight the incredible and diverse solution builders activating capital for regeneration across the agriculture and food system. 
---

Company: Ooooby
Description of Company: Ooooby is a decentralized marketplace for local, ecological food. The company provides an easy way for farmers and food producers to earn good money by selling direct to local households using Ooooby's sales and logistics platform. For households, they provide an easy way to find and buy good food direct from local farms and food producers.
Founded in: 2008
Fundraising Rounds Closed:
Constellate Ventures – £85,000 (2019)
A Team Foundation, Be the Earth, Atreyu, Imaginal Seeds + 2 Impact Angels – £700,000 (2022)
---
Pete Russell is the founder of UK-based Ooooby. Having facilitated over 1 million deliveries since Ooooby's inception, Pete has navigated through many gnarly challenges which have provided useful insights and have helped form strong foundations for a growing network of independent farms and food hubs. Pete shares Ooooby's investment journey, lessons learned, and what lies ahead.
What problem are you solving for?
Pete Russell: Ooooby is solving the problem of high prices for regenerative food. On one hand, regen food producers need to charge more than conventional food producers to cover higher production costs because they don't externalize costs and often output a lower volume of food per acre. On the other hand, most consumers can't afford (or find it very hard to justify) paying premium prices for food even if it's much better for them and the ecosystem. In order for the average consumer to consider buying regen food, they need the prices to be competitive with conventional food. Ooooby cuts supply chain costs in half so that both food producers and customers can get what they need.
How do you characterize the impact of your work?
Pete: Ooooby produces positive impacts on multiple fronts: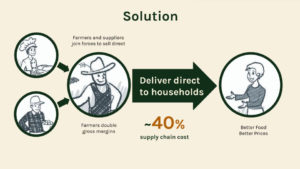 Increases food security by connecting communities directly to food produced in their local region.
Reduces food waste through the harvest to order model.
Reduces packaging by eliminating the need for packaging for the sake of merchandising and reducing the time from gate-to-plate.
Boosts rural economies by facilitating local trade.
Drives regenerative practices by enabling regen food producers to be paid what they need to be viable without the customers paying ridiculous prices.
What's the biggest challenge you have faced on your investment journey?
Pete: Our biggest challenge has been finding patient investors who understand the fundamentals of building an enduring enterprise that steadily chips away at massive systemic problems.
What are your next steps as an organization?
Pete: Up until now we have been developing our product to provide a meaningful solution for good food producers to sell direct to households and demonstrating real product market fit. Next steps are:
Continue to grow our network of food producers, hubs and customers.
Grow our tech team to deliver on our product optimization roadmap.
Add services to support the growth and success of the food producers and hubs.
What's the most important lesson you have learned on your journey so far?
Pete: Working on solving big systemic problems is very hard and takes a long time but it is fulfilling work and well worth it in the long run.
---
Would you like your company to be highlighted as an activator in RFSI News? Email us here.