Meet the Activator is a regular series designed to highlight the incredible and diverse solution builders activating capital for regeneration across the agriculture and food system.
---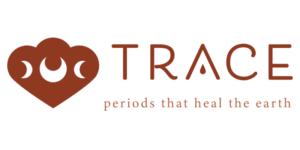 Company: Trace Femcare, Inc.
Description of Company: We innovate supply chains to make hemp fiber consumer health products, starting with period care, that support regenerative agriculture at scale.
Founded in: 2020
Fundraising Rounds Closed: $750,000 – Friends and family
---
We caught up with Claire Crunk a women's health nurse practitioner, founder, and CEO of Trace. As a pioneer in the US hemp fiber agricultural movement, she joins together exciting new practices in healing the earth through hemp and regenerative farming techniques with her knowledge of menstrual healthcare. Claire shares the company's investment journey, lessons learned, and what lies ahead.
What problem are you solving for?
Claire: Consumers want tampons and pads to manage their periods because they are convenient, but there is major concern among younger women about their environmental and health impacts. The problem is that the supply chain used to make these products is insanely complex, so incorporating better, healthier natural materials is almost impossible. It's why we haven't seen a material upgrade since organic cotton in the 1970's despite novel natural fiber availability.
To solve this problem, we had to discover new ways to get folks to work together as a cohesive supply chain, and we had to develop new technologies to produce hygiene-quality hemp fiber with innovation from the farm level to finished good.
Our solutions give consumers what they want with a better period product for earth and body, plus our farm-forward business model provides an unprecedented level of ingredient transparency and accountability – two things that are major hot topics in menstrual care today. It has also built the foundation for farmers to enter new, expansive markets within a regenerative system; after all, periods are ubiquitous and perpetual!
Last, Trace is not the only one who has been faced with infrastructure barriers in bringing regenerative fibers to market. A Trace tampon weighs around 2 grams while a t-shirt weighs 75 times that. So, we know launching tampons is a foot in the door that the apparel brands and farmers have been looking for to make hemp fiber production commercially viable.
How do you characterize the impact of your work?
Claire: Our work is holistic, focused on healing self, earth, and kin, and that manifests in different ways. Some of our impact measures are quantifiable – soil quality, bottom lines, and performance improvements, for example. Others are more qualitative like the magic of pre-competitive collaboration and the regenerative buy-in from consumers through our farm-forward storytelling. We've hit many milestones that affirm we are on the right track:
1. The first tampons made with hemp fiber (globally)
2. Statistically-significant increases in SOC and SOM in our cotton program
3. The first producers of hygiene quality hemp fiber at commercial scale in the United States
4. Reduced irrigation, input costs, and reliance on pesticides for our growers
5. Influencing a global manufacturer of tampons to conduct their first social impact audit
6. Expanded US acreage of fiber hemp that puts money in farmers' pockets
7. The only farm-level traceable tampon supply chain for full ingredient awareness
8. Compelling research for hemp fiber agronomy and processing technology
9. Raised >$750K so far!
What's the biggest challenge you have faced on your investment journey?
Claire: We are the first in so many areas: in hemp fiber agronomy and supply chain validation, in hemp tampon innovation, in regenerative cotton production for menstrual care, and in hemp fiber with FDA-regulated medical devices. All of those firsts required a whole lot of pre-revenue capital, and most investors don't like to invest in pre-revenue companies selling a tangible product.
With that, CPG is often overlooked as an important tool to pull up regenerative agriculture and AgTech, and we are frequently pigeon-holed as just another tampon brand. Frankly, the importance of funding the marketing of a hemp tampon doesn't always click with the investor wanting to help farmers.
We're ready to sell now, though, and need capital to fund additional raw materials and product inventories, expand our team, and put ourselves in front of customers. We know we have something special and that the money and investors are out there – we just have to find them!
What are your next steps as an organization?
Claire: Launch tampon and pad sales (Q2 and Q3 respectively), further expand capacity in hemp fiber processing, and kickoff our B2B work offering fiber analytics and white-labeling.
What's the most important lesson you have learned on your journey so far?
Claire: This feels impossible to answer – this journey has been life-changing, life-giving, and the hardest thing I've ever done (and I did grad school at Vanderbilt as a single mom).
I suppose the most important lesson I've learned is trust. I tend to want to be in control of everything, which can sometimes be great for anticipating problems, analyzing thoroughly, and getting things done. But trying to control every single outcome just isn't healthy or, frankly, even possible. Plus, every time I have been scared or upset when an opportunity fell through, something far better than what I originally wanted appears. So, I've learned to trust the process, to trust my people, and to trust myself…and to smile and enjoy the ride.
---
Would you like your company to be highlighted as an activator in RFSI News? Email us here.