Diverting organics from landfills is the #1 actionable item to address climate change, but we "lack scalable technologies" to address the problem (Project Drawdown, 2022). In the US alone there is over 83 million tons of food waste per year. Several state and federal mandates call for vast reductions, yet the scalable technologies have not been implemented.
But there is a technology that can address this by:
Consuming organics waste at industrial scales.
Creating naturally nutritious protein and fat for animals.
Locally producing better-than-synthetic fertilizer that heals soil and allows it to capture more carbon than all the trees in the world*.
Plus, the technology is as nature-based as it gets: insects.
Insects operate as waste-to-value machines that can upcycle nutrients into products that can be sold into multi-billion dollar markets – such as the $550B animal feed industry and the $200B fertilizer sector – replenish soil health, and so much more. Yet, the markets remain underdeveloped to this point in the U.S., presenting a massive opportunity.
Among the companies pioneering this space is Chapul Farms, which in partnership with the sustainable infrastructure engineering specialists at Nexus PMG, designs facilities to address the problem at this scale.
RFSI News last reported on this innovative company in January of 2022 when announcing their successful Seed Round fundraise, which included investors Nexus PMG, Mark Cuban, and KIND Snacks' Daniel Lubetzky. With the seed capital, Chapul formalized their partnership with the seasoned engineers at Nexus PMG, hired key talent at the Parent Co. level – including heads of sales, marketing, and farm staff, increased revenue by 100%, and progressed its pipeline of projects, including securing market commitments for future products. Other highlights from the past 15 months include:
Chapul Farms' CEO being re-elected as the Chair of the Board of the National Science Foundation's Center for Environmental Sustainability through Insect Farming
The completion of construction of its Insect Innovation Center (now fully operational in Oregon) in partnership with 501c3 Tainable Regenerative Laboratories and The Soil Food Web.
Further advancement of the front end engineering and design of its first commercial facility in North Dakota to be shovel-ready later this year.
The securing of more than $400k in grants from state and federal programs (with another $5M applied for)
Today, Chapul reaches another milestone with the announcement of a $10 million Series A offering under the Reg D 506(c) exemption, allowing them to solicit funds from accredited investors broadly.
A Business Model to Uniquely Meet Systemic Demand
The company's business model is designed around the ideal methodology for the rapid scaling of insect agriculture as a foundation for delivering efficient ecosystem services, with a profitable path for agricultural businesses transitioning towards their own net zero targets.
Chapul addresses the massive demand for industrial solutions for organics waste as the modular insect farms that they design and build turn organics waste into high-value animal feed and biofertilizer products that are a model for circular food systems of the future. The system leverages the Black Soldier Fly Larvae (BSFL), which consume a wide variety of organic materials and produce 90% less greenhouse gasses than composting, with a conversion cycle of less than 10 days. The process converts 100% of inputs into two core products:
(1) Frass: a mixture of manures and exoskeletons that can enhance soil health as a locally produced, natural biofertilizer,
(2) Insect larvae: a protein- and lipid-rich biomass added to animal feeds that is highly valued for its sustainability compared to traditional alternatives
In addition to addressing needs across multiple markets, Chapul has proven to be remarkably capital efficient, accomplishing significant progress with their first $2.5 million of investment. While others in the space are raising $250M Series D rounds to build insect farms to sell larvae into aquafeed markets, Chapul thinks their holistic approach and model can activate capital for outsized systemic benefits more efficiently.
An example of Chapul Farms' solution is explained in this three minute video.
Series A Fundraise: Aligning Long-Term Value in Food and Finance
Today, Chapul Farms is set to embark on its next fundraising journey – a $10M Series A Reg D 506(c). The series, open to accredited investors, will help advance the company's mission by:
1) accelerating the staged development of its > $1B project pipeline, investing in new research and development opportunities, sales and marketing growth within the multi-billion-dollar opportunity of insect agriculture, and
2) breaking ground on their first commercial insect facility.
In a recent interview, CEO Pat Crowley explains his, "frustrating chicken and egg situation of trying to fund facilities. To secure capital investments, capital wants to see long-term market commitments, however, markets want to see the volume at scale, and you can't supply that without money for production facilities. I've come to the realization that we need large amounts of capital to come into insects to address large amounts of organic waste. That's what's needed right now, and the short-term vision of capital is one of the most frustrating things in this business. It's just the constant, unrelenting short-term thinking."
However, recent advancements in financial regulations may hold the solution: a Reg D 506(c) allows for private companies like Chapul Farms to publicly advertise to any accredited investors.
Leveraging a $1B Pipeline to Create a Potential 10X Valuation
The modular insect farms are built as separate Project Co's with attractive infrastructure development returns. Chapul is inviting investment at the Parent Co. level (CHAPUL, LLC), with attractive infrastructure return cash flows from the Project Co's built and owned by the Parent Co (see image below).
Chapul Farms' specialty is in systems integration, building custom insect facilities that have de-risked capital investment in terms of technology (facilities integrate existing farming equipment with long operational history), market (insect facility market commitments secured before project builds), and project finance (Project Co's are funded by 3rd party debt/equity).
The company has developed a >$1B customer project pipeline eager to execute project development for insect facilities.Revenue will come from: cash flow from facilities back to the Parent Co. and operation and service fees.Crowley explains, "It's taken years to develop our pipeline, de-risk the facilities with market development, and complete full-scale facility design and engineering, but the payoff is huge. Now, we have facility customers paying for project services that will lead to facility construction (aided by 3rd party project financing partners), and our customers provide the feed (organics byproducts/waste) for our insects."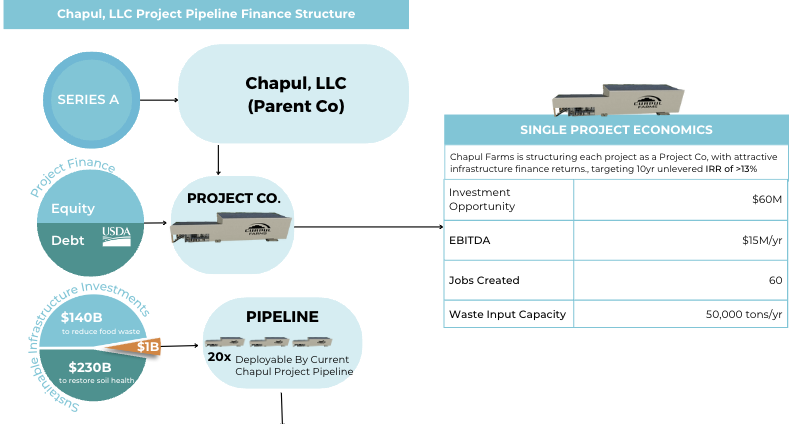 The company cites this fundraise as the most pivotal, referencing comparables that realized a 10x multiplier (in Chapul's case, of the proposed $35M Series A) after achieving 1-3 facilities in the ground and a packaged pipeline.
"With private equity and infrastructure funds rapidly increasing their allocations toward reducing our carbon footprint, we are witnessing a historic supply demand imbalance between available capital and places to deploy it. Put simply, the evolution of the capital markets into sustainable infrastructure investments has significantly outpaced the actual energy transition efforts itself. This has resulted in valuation premiums for those that can demonstrate a quality pipeline of projects that will accelerate capital deployment. Over the past 12 months there have been several high-profile investment transactions reinforcing this. For example, multiple companies with 1 asset in operation ($10-20M annual EBITDA) and a pipeline consisting of $1B+ potential capital deployment, have seen valuations north of $600M. Upon successfully breaking ground on Chapul Farms first commercial facility and advancing what is already a robust pipeline of additional projects, it is reasonable to expect a significant valuation increase." Ben Hubbard, CEO, NEXUS PMG
The Potential Impact
"It's so common-sense that it's often overlooked," explains Aly Moore, CCO of Chapul Farms, "To fix the biggest food challenges, we just need to re-weave insects (a keystone species) back into the food system so they can perform all their natural tasks like eliminating waste, improving soil health, biofiltering, and efficiently producing local animal feed and fertilizer ingredients".
The largest and most significant environmental impacts are emission of CO2e and loss of biodiversity. Soil stores more of the world's carbon than biomass (vegetation) and the atmosphere combined (WEF). Chapul's project pipeline has the potential to divert 150M metric tons of GHG and rehabilitate over 1M acres of soil per year.
Put another way, Moore adds, "One Chapul Facility has the potential to divert more GHG than all Teslas sold in 2020. The time for virtue signaling is over. We must act."
---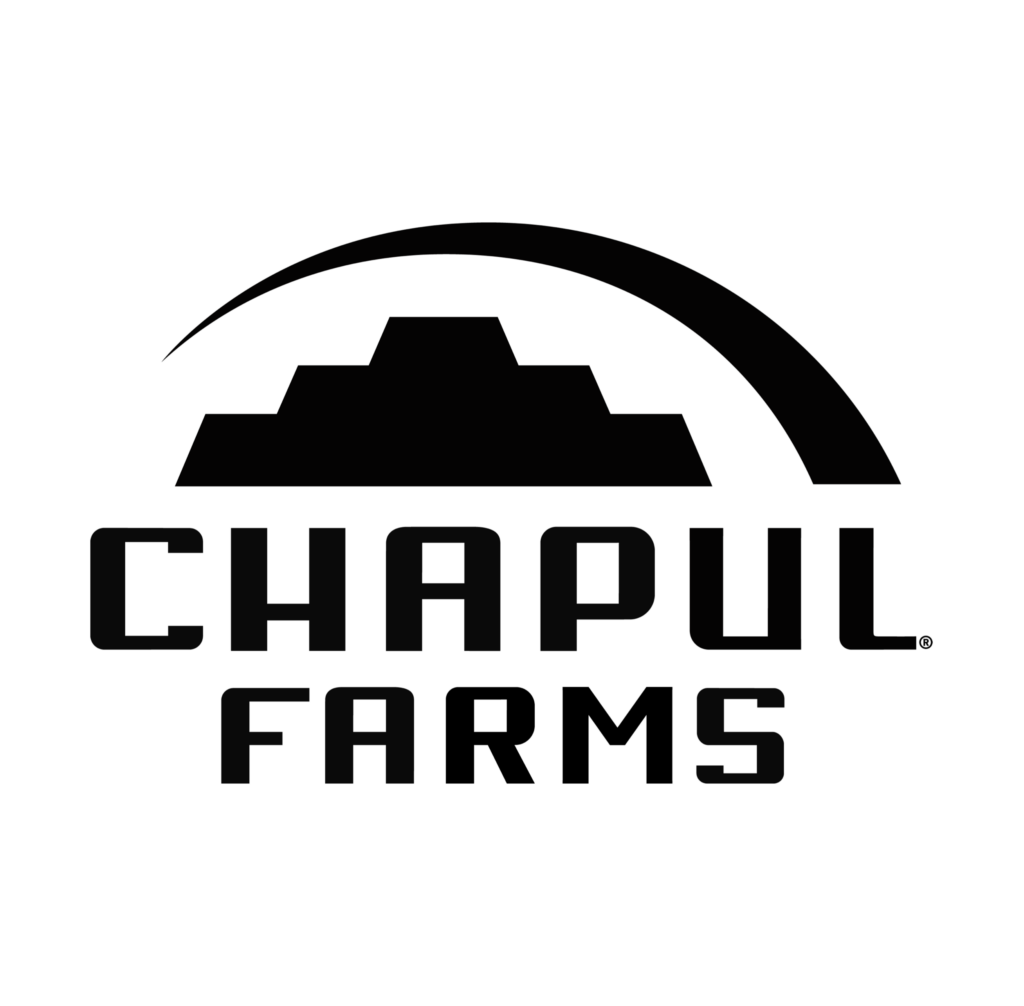 Looking for more information on how to participate?