Next week, our team will be attending the Regenerative Agriculture & Food Systems Summit in Amsterdam. The event aims to bring the food industry together to accelerate regenerative agriculture practices through partnership and alignment. After a few years of the pandemic, we're excited to fly across the Atlantic and meet those working on the ground to transform Europe's food system. Beyond the incredible people and organizations we hope to connect with, some of the sessions that have us excited include:
Evaluating the Economic Model, is Cost Sharing the Answer to Maximizing Scale?

Uncovering the Innovations to Help Accelerate the Transition Process

EU Policies: Agricultural and Environmental

– How Government Incentives Can Support Farmers Through Transition.
But we wouldn't be RFSI if we didn't focus our attentions on the role capital will play in moving regeneration forward in Europe and beyond. To help us start thinking about this, we've put together an industry funding map for regenerative agriculture and food on the continent. Here, you'll find the organizations that we know are providing or will soon provide funding to regeneration. Of note is the robust list of organizations under Food and Agtech Venture Capital. Not only are there many but several are brand new, demonstrating the rapidly increasing interest in technology and innovation that enable transition to regenerative agriculture and food.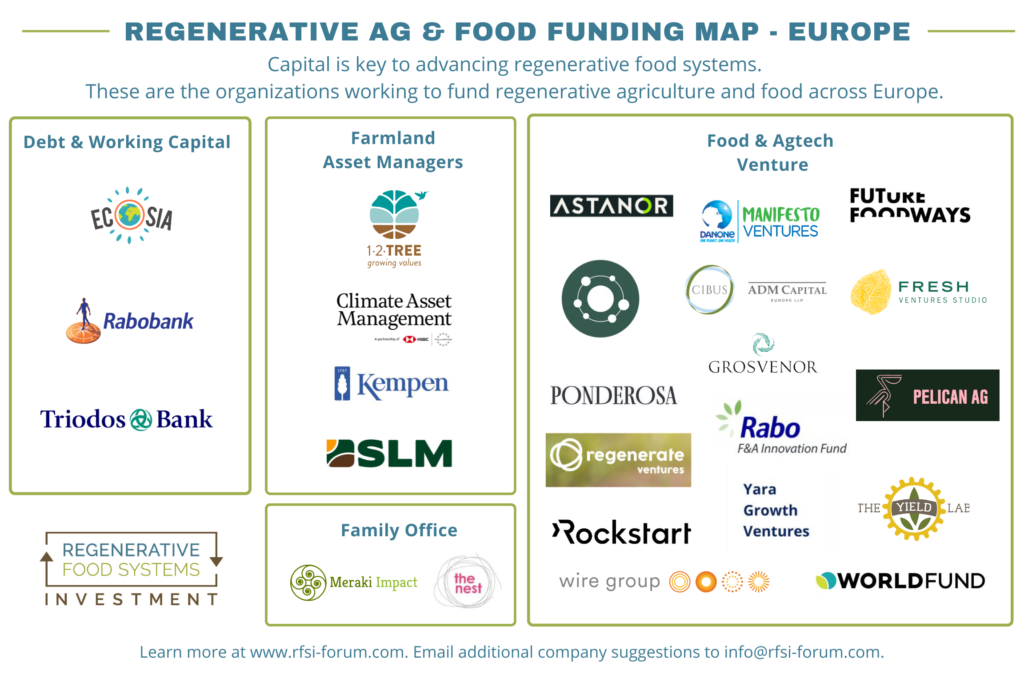 Because this space is evolving so quickly, we know we've missed some organizations. Who needs to be added to this map? Please let us know here!
---