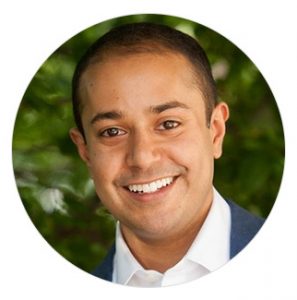 Adrian Rodrigues is a Co-Founder and Managing Director of Provenance Capital Group, a financial services firm focused on allocating capital into regenerative natural resource investments. At Provenance Capital, Adrian helps develop blended capital structures that catalyze resilient biological systems and businesses, something he has great passion for. Before Provenance, Adrian worked at Patagonia within its Venture Capital arm Tin Shed Ventures, helping author a standard for Regenerative Organic Agriculture and exploring Regenerative Organic Land Funds. He also spent six years at Morgan Stanley helping long time horizon investors manage their asset allocations and diligence investment opportunities across asset classes and sectors. He has lectured on food innovation at the Berkeley Haas School of Business, where he graduated from the full-time MBA program.
Adrian, who is an avid chef, backyard farmer, and budding yogi, spoke at the 2020 Regenerative Food Systems Investment (RFSI) Forum. Late last year, he sat down with RFSI and Raising Regenerative News Director, Sarah Day Levesque, to share some of his thoughts on investment in regenerative agriculture, the food system, and the barriers we face in creating a healthier future.
Raising Regenerative News (RR): Can you briefly tell us about your role in the food and finance system?
Adrian Rodrigues (AR): My team and I at Provenance Capital Group focus on allocating capital into regenerative natural resource investments by designing integrated capital structures that better match the longer time horizon of biological systems. We work with a range of asset owners, asset managers, investment advisors, and enterprises to mobilize capital into food, fiber, and forestry. Our work tends to fall into one of three buckets – advisory services, opportunity sourcing and structuring, and portfolio level engagements.
RR: Why is investment in regenerative food and ag so important today?
AR: I've always been a believer in dealing with the root cause of problems and not the symptoms. By moving our agricultural system to a regenerative paradigm we can address one of the root causes of a multitude of intractable problems such as environmental degradation, dietary related illnesses, and wealth inequality.
RR: What's the biggest barrier that we (as an industry) need to overcome to move us toward a healthier food system? How do we do this?
AR: Investor and environmentalist Jeremey Grantham made the cheeky, yet apt point that our focus on time-weighted returns and the discount rate means that our great-grandchildren have little value. He further argues that we need to move away from shorterism to long term resilient value creation. Until we shift how we measure the success of our agricultural entities away from short term profit maximization at the expense of the system to long term holistic value creation that regenerates the system, we'll be faced with incremental progress. I see potential in holistic value measurement frameworks like True Cost Accounting.
RR: Who are your Food Heroes?
AR: The often forgotten indigenous land stewards and cultures that passed down generations of knowledge and created regenerative agriculture, Esther Park, Sallie Calhoun, Vandana Shiva, Rebecca Burgess, Rudolph Steiner, the Organically Grown Company, RSF Social Finance, Anthony Chang, Michael Pollan, Will Rosenzweig, Jose Andres, Daphne Miller, Paul Stamets, Ricardo Bayon, Rose Marcario.
To learn more about Adrian's work in this emerging investment space, check out a recent executive profile in the San Francisco Business Chronicle here.
---
Sarah Day Levesque is Managing Director at RFSI & Editor of Raising Regenerative News. She can be reached at sdaylevesque@questorcorp.com.