How One VC Firm is Filling the Funding Gap for Regeneration… and Inspiring Others to Do the Same
In September of 2020, Trailhead Capital stepped into the world of regenerative agriculture investing with the launch of a new fund and a progressive strategy seeking to build a bridge between Big Ag and the pioneers working to build a new agricultural paradigm around regeneration. In order to improve the global agriculture system, their first fund takes a holistic approach to investing in innovation across the value chain – from the producer, all along the supply chain, all the way down to the consumer. When we spoke a year ago, Trailhead had already closed on initial commitments for their first fund and had made investments in five companies ranging from autonomous robots and virtual fencing to sustainability databases and CPG brands. So, what have they been up to in the past 12 months? The short answer is A LOT, and it all points to the evolving role and big potential of venture capital to drive global transformation in regenerative food systems.
A Year of Progress
Since we last spoke with Trailhead Managing Partners' Mark Lewis, Pete Oberle, and Tripp Wall, the fund has secured additional investment and held a close on Oct. 7. Each close has diversified Trailhead's investor base, starting initially with HNWIs and family offices, and more recently expanding into a corporate venture arm and the Rodale Institute endowment.  The forthcoming close will bring on board institutional investors in the form of two fund of funds based in Europe and the US.
LPs in Trailhead Capital express a consistent rationale for making the investment: mission-alignment and the credibility of Trailhead's team and strategy.
Jeff Tkach, Chief Impact Officer at Rodale Institute, expresses their excitement over their endowment's allocation to Fund 1, "Rodale Institute is thrilled to partner with Trailhead Capital and to bring forth our decades of thought-leadership, cutting-edge science, and proven best practices in an effort to ensure that farmers have every resource they need to fully embrace the future of agriculture and to do so successfully."
Jane Woodward, of WovenEarth, who recently committed to Fund 1 expands upon this, "We at WovenEarth Ventures are an early stage climate tech fund of funds manager and we researched the regen ag fund space and believe Trailhead Capital is best in class and we are thrilled to become an LP."
Ronald Janse, Fund Manager of Private Markets at Europe's Wire Group, anew investor in Fund 1, elaborates, "In regenerative agriculture we looked at all the funds active in the space, talked to many people active in the field and kept coming back to Trailhead. They are extremely well connected and -through their initial investments- have proven to get access to some great regenerative companies." Even more, "What's interesting about our investment in Trailhead Capital's Regeneration Fund 1 is that it looks wholistically at the agricultural practices and seeks to improve both the natural health (such as improved soil health, reduced water usage and sequestered CO2) as well as human health (through more nutritious foods). This aligns nicely with our goals and holistic view of investing."
With new capital from these and other investors, Trailhead's portfolio companies have grown to 16. The new companies brought into the portfolio continue to address three key goals: rebuilding Earth's fertility, maximizing human health, and reducing waste. These latest investments include companies that offer innovative solutions for crop protection, food waste, data and supply chain management, genome sequencing, food safety, and more.
"Partnering with the dynamic teams and companies in our portfolio is a daily inspiration," explains Pete Oberle. "Each one is working to significantly expand the practice and reach of regenerative agriculture, and to improve soil health, eliminate waste and increase access to nutrient dense food in the process. We believe these enduring root cause solutions represent the greatest opportunity for improving human and planetary health, so naturally have the potential to generate outsized ecological, societal and financial returns."
Trailhead Capital Portfolio Companies
These portfolio companies continue to experience success with about a quarter of them having completed or in the process of step-up rounds. In March, virtual fencing company Vence announced additional funding from the venture arms of two major corporates, Merck & Co and oil and gas giant Shell, which was followed in September with the announcement that Merck & Co has acquired Vence. In May sustainability data platform HowGood announced a $12.5 million funding round.
But these enormous steps are not the only exciting updates for Trailhead. They've also made updates to their team, hiring Connie Cocroft as Chief Operating Officer. She will play an integral role in making Trailhead a household name for the regenerative ag investing world and moving their mission forward.
Something else that will move their mission forward AND meet investors goals? Impact reporting. This year, Trailhead has made big strides on their impact reporting strategy. Cocroft explains, "Reporting on impact helps put a sharper point on what is important to us as a firm."
Meeting Growing Demand for Impact Reporting
The investors participating in Trailhead's fund are hyper-focused on both financial and impact returns – aligning with Trailhead's mission to construct a portfolio with above-market-rate returns both financially but also ecologically and socially. For Trailhead, it wasn't a matter of whether they would do impact reporting, it was a matter of when… and how. You see, financial reporting is very standardized, but there is still a lack of consensus around impact reporting across the industry. What metrics need to be tracked? How can they be quantified accurately? How can the information be gathered efficiently from the portfolio? These were all questions that the Trailhead team was wrestling with.
It was important for them to be able to share quantitative metrics from their portfolio companies that could be measured over time and also that the data collection process would not over-burden their portfolio companies.
Again, Cocroft explains, "When we identified the metrics we wanted to measure, we started with the goals we wanted to drive and worked backwards into the right metrics. Identifying and measuring key metrics and drivers help us consider how much each investment is moving the needle toward our end goals – and help us articulate that thinking to our investors."
Ultimately, the team decided to work with Proof (formerly Proof of Impact) – a digital platform that collects, verifies, and visualizes performance data – for a few key reasons: Proof was already working with impact investment companies and had a shared interest in the regenerative agriculture space, and the software as a service format is easy to administer internally and to ask Trailhead's portfolio companies to use. Cocroft notes that some of the metrics that align most directly with Trailhead's mission are either difficult to measure or hard to define, so they have created a path towards getting measurement over time. The team and their portfolio companies are now in the process of onboarding with Proof and their goal is to have an interim report for LPs by the end of 2022.
The Bigger Picture
While Trailhead is among the first crop of venture capital players to focus entirely on regenerative food systems, they won't be the last. Demand for an alternative to the current broken food system is growing rapidly and innovation and capital are going to be central to this transformation.
The current agriculture and food system is unsustainable. It is the leading cause of biodiversity loss globally and a significant contributor to climate change and land and water degradation. In the U.S., 30-40% of the U.S. food supply goes wasted and the U.S. government spends tens of billions of dollars subsidizing intensive food production, all while more than 40% of Americans are medically obese and nutrition-related diseases are costing the U.S. almost $800 billion each year.
Regenerative food systems – with soil health sitting at its foundation – are increasingly being recognized globally as a solution to many of these challenges. Growing commitments from nations and multi-national CPG companies reflect growing awareness of this. G20 nations have pledged to restore 1 billion hectares of degrade land by 2030, according to the United Nations. At the same time, in 2021 the number of multi-nationals making corporate commitments to incorporating regenerative agriculture into their supply chains has taken off, with JBS, Mars, Nestle, PepsiCo, Walmart and others joining early adopters like Danone and General Mills. These all point to the growing awareness of the global imperative for agriculture and food to shift from a contributor to a solution to environmental degradation, climate, human health and more.
Corporate Commitments to Regenerative Agriculture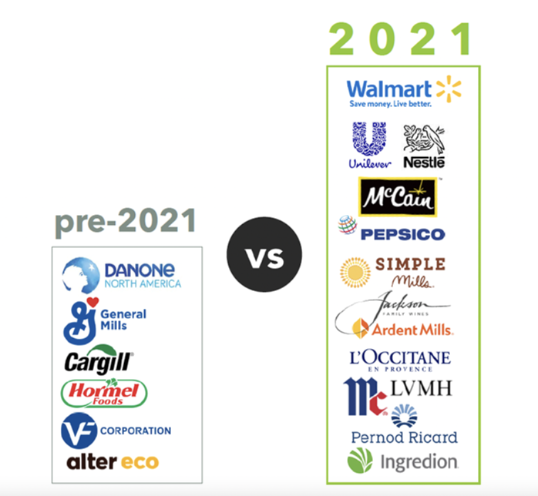 Regenerative agriculture has an important role to play. Mark Lewis explains, "With the unique ability to go from a carbon source to a carbon sink, regenerative food and agriculture is perhaps our most important climate mitigation, adaptation, and resiliency tool available today. As the extreme weather continues to roll in, regenerative practices that build soil health will become increasingly critical in order to produce nutrient dense food in the face of increasing environmental challenges related to carbon, water, and biodiversity."
But nations and corporates won't be able to meet their commitments without collaboration, capital, and innovation. Venture capital has a critical role to play in enabling innovators across the system to take their solutions to the next level.
Food and ag-tech funding increased dramatically over the past decade, driven by increasing demand and awareness. 2020 saw a particularly high jump in the number and value of deals (which increased more than 2.5 times from 2019 to 2021), as well as the number of exits (which increased ten times over in the same period), according to Pitchbook.
Global Deal Activity in Agtech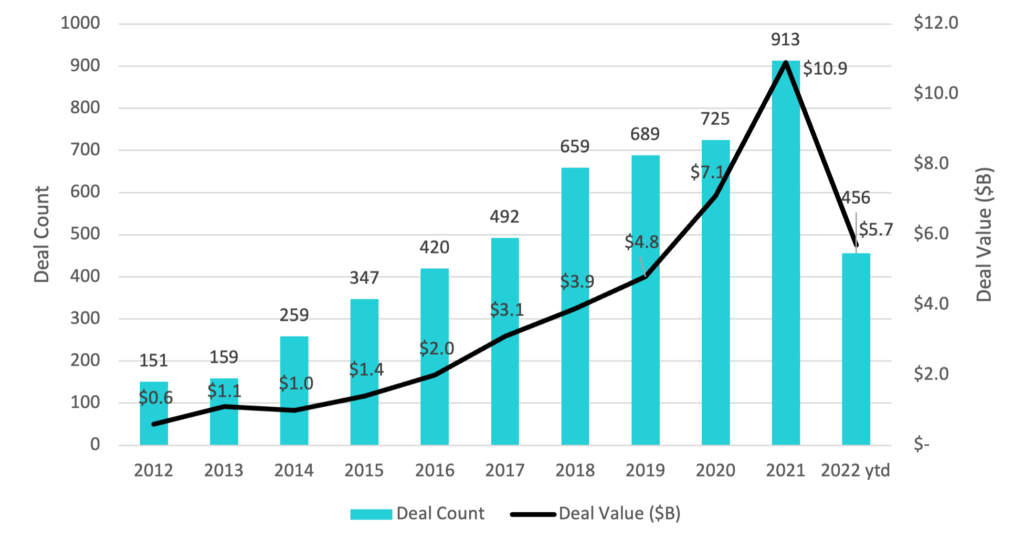 Global Deal Exit Activity in Agtech
Data from Pitchbook also shows a steady increase in regenerative agriculture VC deal activity – with both the total value of the deals and the deal count increasing significantly over the past ten years. The number of deals in regenerative agriculture has grown 270% (from 42 in 2012 to 152 in 2021) and the value of the deals has grown more than ten-fold in the same period. Four major areas of investor interest that address regenerative agriculture are leading this growth: biologicals – which create biological solutions to reduce the use of synthetics pesticides, remote sensing – which include imagery analytics and in-field sensors, field machinery – which includes precision equipment that reduces chemical inputs and soil compaction, and herd management – which includes tools to track and move livestock in rotational grazing systems.
Global Regenerative Agriculture VC Deal Activity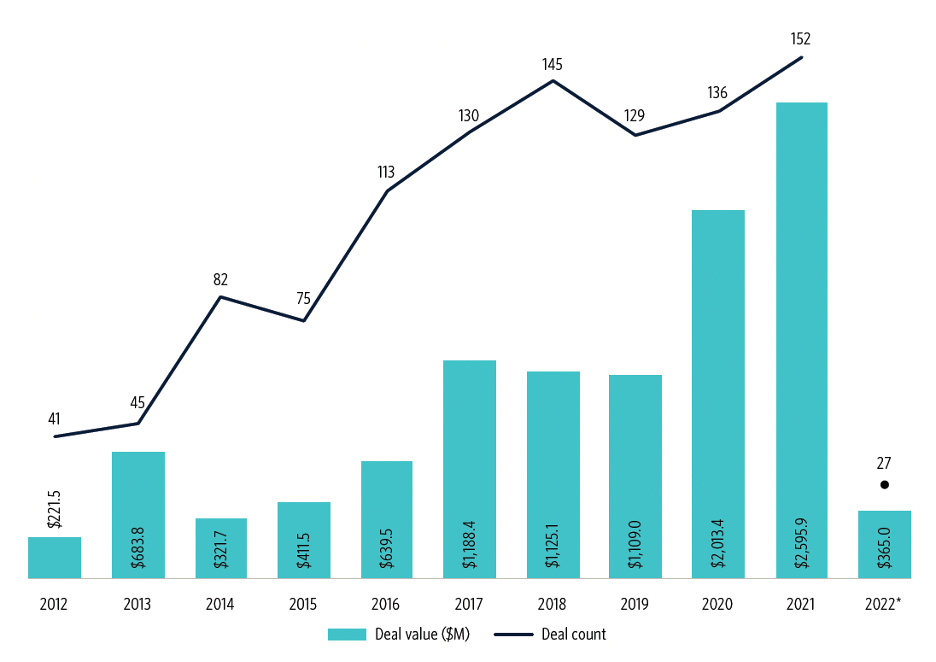 Unmet Demand
Even with the significant growth in venture capital deals in regenerative agriculture over the past decade, agriculture and food as a solution to climate and other challenges is still critically underfunded compared to both the potential impact it could have on things like GHG emissions and the capital investment needed to address climate change. Globally, we need to invest $3.5 trillion more annually than we do today to address the worst effects of climate change, according to Climate Policy Initiative, "Global Landscape of Climate Finance 2021." Meanwhile, the Climate Change 2022 report from the IPCC explains that various activities within the food and agriculture space – including agricultural carbon sequestration, ecosystem restoration, and changing human diets, among others – hold great potential to contribute to global net emission reductions.
Agriculture and Food's Potential Impact on Net Emission Reduction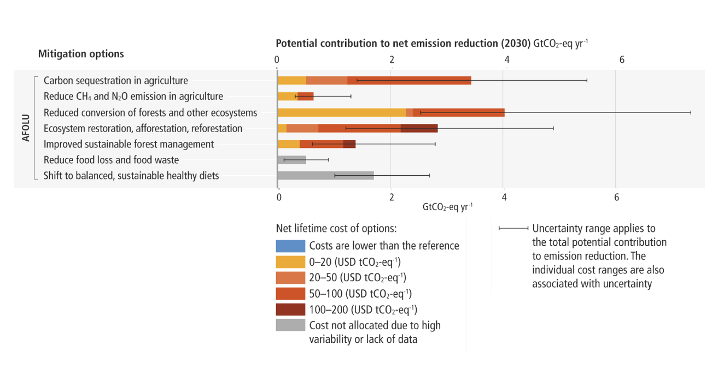 However, when you look at how these climate mitigation strategies align with current VC funding, the gap is enormous and points to the significant opportunity to increase funding to agriculture and food projects that address climate. Projects focused on ecosystem restoration, for example, could represent 2.9 GtCO2e year but currently less than $1 billion in VC projects are being funded in this space.
VC Funded Climate Change Mitigation Pathways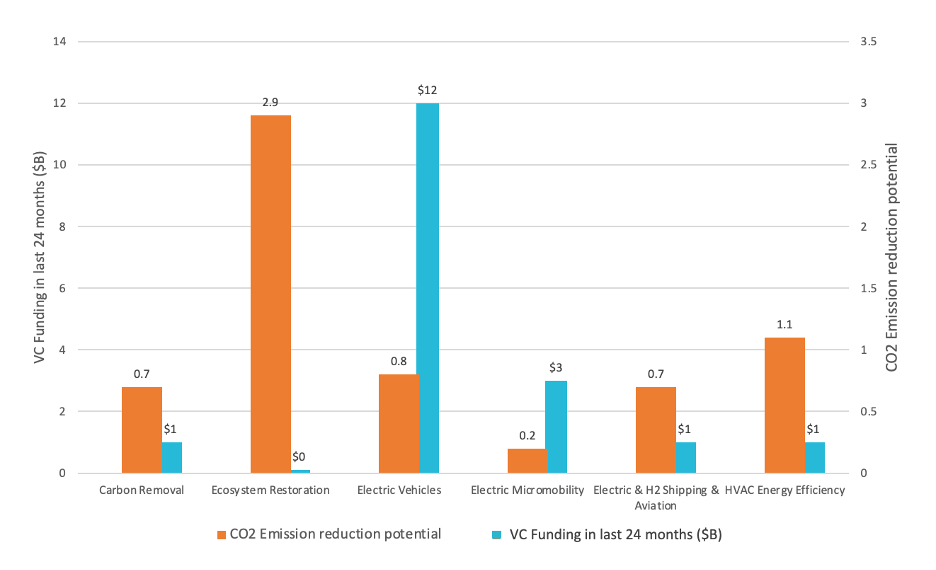 This is just one data point that demonstrates the opportunity for venture capital to play a significantly increased role in addressing climate change through regenerative agriculture – which in turn will address other damaging impacts of agriculture on the environment and human health.
Looking Ahead
With an investment strategy that spans the agri-food supply system, Trailhead Capital is blazing a new trail for venture capital and exemplifying how to invest in the advancement of regenerative food systems. Their diverse portfolio includes leading opportunities, such as biological solutions and field machinery, but also connects the dots and demonstrates the enormous opportunity that lies beyond these more obvious areas. These include autonomous robots and digital data platforms that address everything from food safety and quality control to ecosystem restoration and food waste management.
Just as VC investment in regenerative food systems will continue to expand, so too will Trailhead's work in the space. While their attention remains centered on the final close of Fund 1, which will take place Dec. 9, and executing on the existing portfolio, they will continue to look for opportunities to evolve their impact.
What comes next will only add to the track record that Trailhead Capital has in proving that VC investments in regenerative agriculture and food can drive impact, change, and returns. But perhaps just as important is that their work continues to inspire others to do the same.
Lewis says it well, "This is about a better shot at a better future for our children. Why are people so sick? Why are rural economies decimated? Where has all the soil carbon gone? Why are the rivers and aquifers drying up? Do we really think continuing industrial agriculture is the best path forward? Innovation and disruption is coming. All are welcome."
---
Sarah Day Levesque is Managing Director at RFSI & Editor of RFSI News. She can be reached here.