We are still sifting through all the incredible insights, connections, and outcomes from this year's RFSI Forum, which took place in Denver, Colorado last week. Here's a look at some of the key themes we took away from the 2022 Forum. We look forward to digging deeper into these and other learnings in the months ahead.
NOW is the time to invest in regeneration and everyone has a role to play
Darren Baccus of Biome Capital Partners and Tripp Wall of Trailhead Capital kicked off the RFSI Forum with an audacious declaration: Regenerative Agriculture is the most compelling investment opportunity EVER. But this was not just so-called click bait. They backed it up with an explanation of the unique headwinds that exist in this moment driving the imperative for regenerative agriculture as a solution to climate mitigation, human health crises, and other pressing challenges. They also shared data points demonstrating increasing recognition and investment in this solution by food system players and funders with Baccus stating that "regenerative agriculture is the last true white space in the investable universe."
The Underfunded Opportunity of Regenerative Agriculture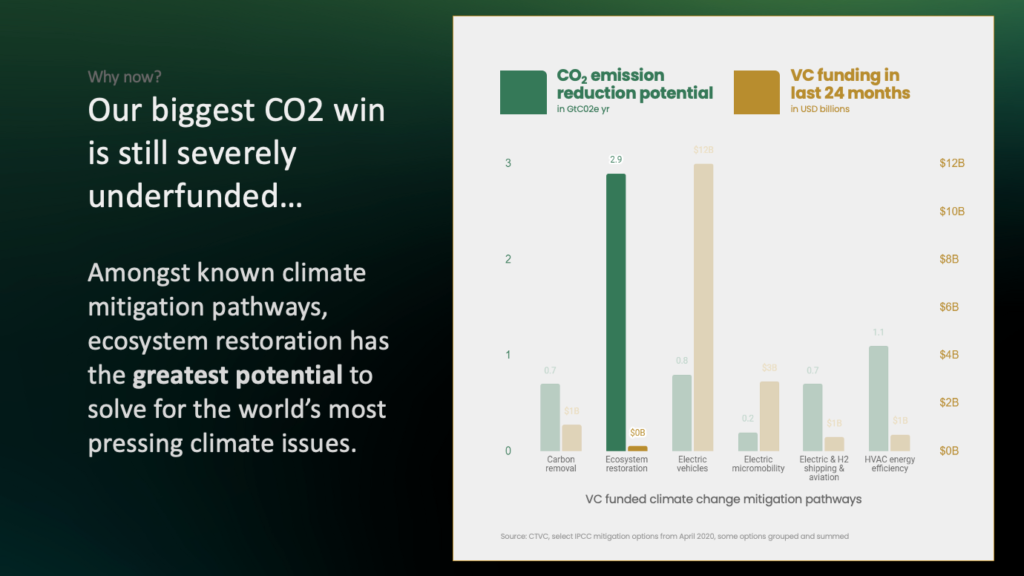 But the message here wasn't invest and extract – as one might expect at a typical investment forum. Instead it was that we all have a role to play, and capital – of all kinds – should be used to enable the holistic, positive outcomes of regenerative systems. Throughout the remainder of the program, discussions revolved, in part, around the role of debt capital, philanthropic capital (both public and private), venture capital, real asset investments, corporate investment and engagement, and more. There were absolutely gaps in understanding across stakeholders about how to finance and achieve regeneration but the charge for all to play a role in figuring it out was largely embraced.
The door is open to bring new capital at scale to regenerative agriculture but we may need to update our welcome mat
Two pools of capital stood out for their under-tapped potential to fund the space and its vast positive outcomes.
As news broke that "Impact investing assets under management surpassed $1 trillion as funds, foundations, development finance agencies and other investors have sought impact in private-market opportunities," Michael Whelchel of Big Path Capital shared a playbook for how to attract more impact investors to regenerative agriculture. He explained that the impact investors he works with care deeply about funding climate and food challenges, to which regenerative agriculture is uniquely fit to address.
Jon Hendrickson of Aether Investment Partners – who brought a conventional institutional investor perspective to a discussion on attracting institutional capital – explained the opportunity to attract new capital at scale lies in courting institutions that are divesting money from oil and gas and seeking to allocate capital elsewhere with a better ESG profile.
To attract both of these pools of capital to regenerative ag and food, a few themes rose to the top:
De-risking the capital transaction: Because the space is still developing there are many unknowns for investors – successful how-to investment case studies and data that demonstrates the financial and impact outcomes are needed.
Awareness and Relatability: Funders new to the space will want to better understand the business case for Regen Ag, but Whelchel points out, we need to tie it to terms and investment areas they already understand and invest in, such as climate tech.
Recommendations to Attract Impact Capital to Regenerative Agriculture & Food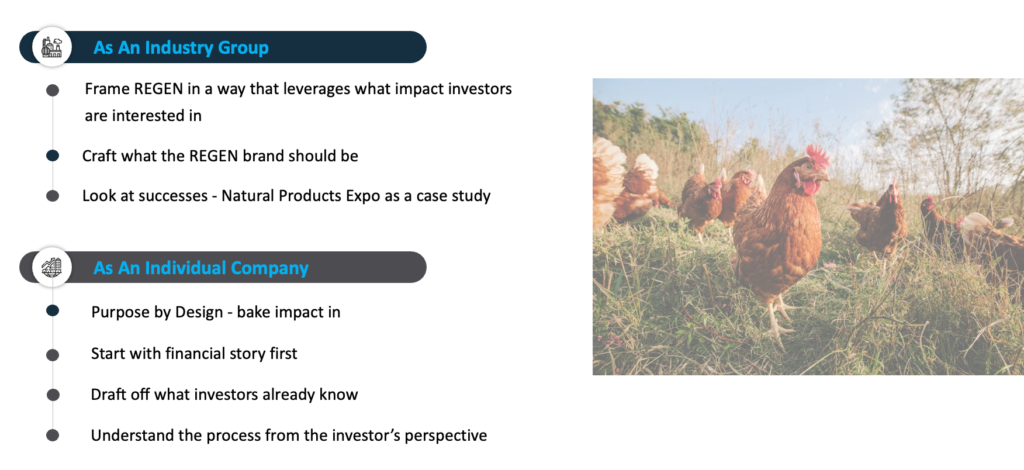 Farmers are the foundation of systemic transition to regenerative… AND must be the foundation of regenerative ag and food investments
As the agtech revolution unfolded over the past decade-plus, the challenge of farmer adoption rose to the top of the agenda. Just as farmer perspectives became so obviously integral to creating viable technological solutions on the farm, so too are they essential for creating effective financial tools to enable on-farm transition and scale.
A focus on farmers was demonstrated in one of the livelier sessions at the Forum that featured four growers of different scale, crop focus, and region – Lauren Manning, Donna Isaacs, Clint Jessen, and John Kempf. The growers and the audience engaged on topics around barriers to financing and growing farm operations, the ideal kind of capital farmers are looking for, and what gaps remain in the farmer/funder relationship. What was illuminated in this discussion and another on day two of the event was that gaps exist in the following areas:
Connection between funders and farmers: there is a lot for each side to learn about the other. Plain and simple – more conversations need to happen between these groups.  As we encouraged at the close of our farm tour and event – more funders need to visit farms.
Transparency of financial terms: Lauren Manning, a farmer and lawyer, used her 100-page FSA loan application as an example. She explained that even as a trained lawyer, she had difficulty understanding all the terms. We must make this more accessible and transparent for farmers seeking financing. 
The language that is used by each side: Funders and farmers must continue to build a collaborative lexicon that can be used as a vocabulary for building solutions that are understood by all.
Greater risk sharing: Farmers bear the majority of the risk in the transition to regenerative production systems. Investment and finance models need to account for and take on more of this risk.
Funding gaps across the system remain
RFSI was founded as an effort to catalyze capital to create systems that support the transition to healthy, resilient, and regenerative food systems – emphasis on systems. Farmers cannot make the transition unless they have aligned agriculture, food, and finance systems around them. While awareness of and capital to this opportunity is growing, there is still a lot of work to be done with some significant gaps in funding vehicles to parts of the system, and systems at large, in a holistic context.
Processing and other mid-supply chain infrastructure is key to preserving the integrity of regeneratively grown products. While the Covid-19 pandemic has helped increase attention to this part of the supply chain, we came into the Forum understanding that this is an area that remains underfunded. We have seen some new funding vehicles to address processing and supply chains, like the Regenerative Harvest Fund by Mission Driven Finance, but new models and more capital providers willing to think creatively are needed to address a significant funding gap in middle supply chain infrastructure.
Conversely, our team walked into the Forum invigorated by the number of emerging regenerative food brands in this growing community – 22 of which were available for our audience to enjoy! But during a breakout session on certification and CPG, our colleague Anthony posed a question. He asked how many regen CPG companies were in the room – lots of hands flew up. He asked how many are raising capital right now or will be in the immediate future, and almost all hands stayed in the air. He then asked – how many dedicated regen CPG funders were in the room? Crickets…. Regenerative brands are a critical piece of the puzzle to incentivize grower adoption because they create stable end markets for regenerative crops while bringing products to the consumer that educate the market on the myriad of benefits of regenerative agriculture. Unfortunately, right now very few funders are focusing on these emerging brands and allocating capital to them. This is an opportunity.
Sampling of Regenerative Brands (also Food Donors for RFSI Forum)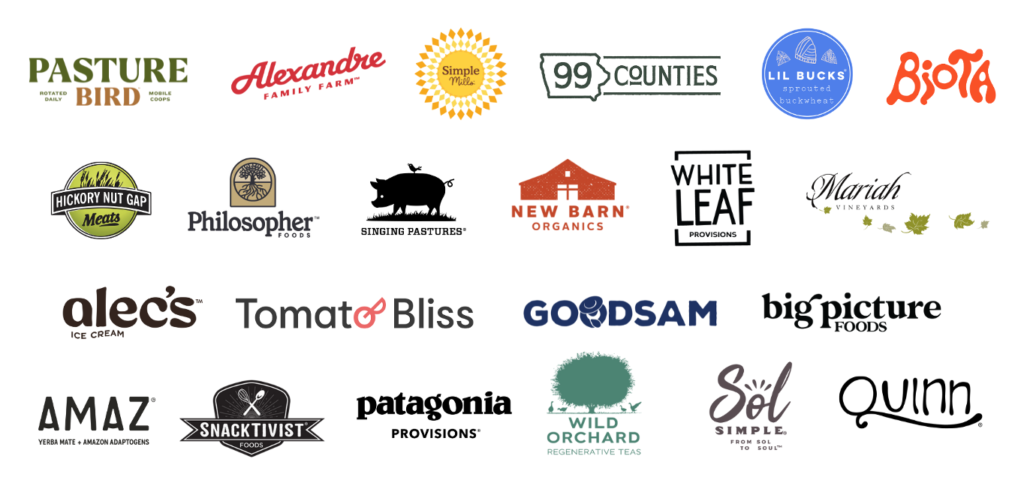 Technology has a role to play in transition across the regenerative value chain
While technology and regenerative agriculture can seem incongruent, technology has a significant role to play in enabling producers and others in the value chain to transition practices. Biological inputs to replace synthetic chemicals is the most obvious and best-funded innovation to date to support transition, but there are other key tech tools. As Propagate demonstrated in their case study, and with their recent $10 million Series A fundraise, technology can reduce risk for farmers to adopt or integrate regenerative practices – such as agroforestry – into their existing system by supporting project planning, providing economic modeling and facilitating technical expertise. Supply chain technology can help build transparency and integrity across regenerative systems from farm to consumer, and impact measurement platforms, such as the one shared by Shannon Bosellli of Proof, can provide data that will prove critical to encouraging further investment into the space.
Transitioning the Food System requires rethinking how we do finance
As Robyn O'Brien of rePlant Capital reminded us, if we want to fix our broken food system, we must also fix our broken financial system. While this is not a small task, the presentations and discussions over the two days of programming challenged all in the room to consider the following:
How we measure success: Mark Watson of Potlikker Capital shared that we can measure outcomes BUT that regenerative, especially at the farm level, isn't all about our traditional quantifiables of productivity or revenue growth. He encouraged us to consider relational outcomes and resilience. Sometimes, he said, success may just be that the farm still exists after a hard year.
How can we leverage collaboration across different funders? As was highlighted throughout the program, different types of capital support different types of projects at different points of their life cycle, in different parts of the system. How can these sources work collaboratively to ensure success?
Be wary of carbon (or any) tunnel vision. While there is great commercial momentum here, and focusing on carbon can be an excellent motivator for funders, operators, and corporates – we run the risk of "missing the forest for the trees" with this approach. Not to mention all of the gaps that still exist in the monitoring, reporting, and verification of soil carbon sequestration. This was illustrated well in a presentation on the state of soil carbon markets by Laura Klein of Perennial and Megan Machmuller of Colorado State University and Cquester Analytics.
Progress will be based on truly symbiotic relationships – between farmers and funders and solution builders. As Jenny O'Connor of Funders for Regenerative Agriculture explained in the opening session in her vision for the future food system:  
"We must endeavor to ensure that, as we work towards regenerative financial structures, we repeatedly ask ourselves: Are we in right relationships with ourselves, with the land, with the animals, and with all non-human and human communities?
This mindset will require us all to put aside our own individual egos and our own individual gains, in exchange for the health and prosperity of the whole. While this path may not always be easy, it is the only path that ensures we don't continue to perpetuate harm and build another extractive, degenerative system."
While there are certainly many questions still to be answered about how we scale regenerative agriculture and food systems through profitable, equitable, and lasting investment strategies, the event left us with an immense amount of new learnings, a robust amount of hope for the future, and a hefty to-do list of conversations that need to be had and solutions that need to be created.
---
Sarah Day Levesque is Managing Director at RFSI & Editor of RFSI News. She can be reached here.