Almonds have a water problem… or so we are told. It can't be denied that almond production in California – which accounts for all of the United States' commercial almond production – is water-intensive. But it's much worse than that, says one California food entrepreneur, who has built a regenerative nut butter business around an alternative to conventionally produced almonds.
Water Problem or Something Else?
Almonds are California's most valuable plant crop – accounting for 3,115 million pounds and $5.62 billion in revenue in 2020. But, like most tree nuts, almond production is water-intensive – using as much as 3.2 gallons of water per acre to produce and giving the crop scores of negative attention across the drought-prone state and beyond.
The last significant drought event in the nation's largest almond-producing state took place in 2012-2016 – just as almond demand from Asia and elsewhere was driving significant increases in planting. During this time, while the state was both water-strapped and experiencing increased almond plantings, almond orchard water use grew to 10% of total state water use and to 1.1 trillions of gallons of water per year, according to some estimates.
Despite this, Tim Richards, Founder and CEO of Philosopher Foods, would argue that water is the wrong narrative for almonds. They don't have a water problem; they have a chemical problem.
Degenerative Almonds
Most almonds grown in California are done so conventionally leading to harmful outcomes for the environment, climate, and human health. At the root of this is the practice of maximizing yield potential and productivity through chemical crop protection and nutrient management programs.
As such, almonds are the most heavily sprayed crop in California – with 39 million pounds of pesticides, herbicides, fungicides, and fumigants sprayed on the crop in 2018. Glyphosate – one of the top chemicals sprayed on almonds – is lethal to bees and other pollinators and is carcinogenic to humans. In the U.S. alone, one pound of Glyphosate per person is sprayed every year and the residue is increasingly found in the food we eat, including in most conventional nut butters on the shelf.
Moreover, synthetic nitrogen – also widely applied in conventional almond production – is fossil fuel intensive to manufacture, runs off into rivers leading to dead zones in bodies of water, and harms soil life. It's this last part, the harm to soil life, that is a particular kicker to the positioning of almonds as having a 'water problem'. It is, in fact, soil life and soil organic matter that vastly improve water retention in soil. Soils devoid of organic matter – such as those supporting conventional almond production in California – aren't good at retaining water and thus require much more. Conversely, those with high soil organic matter retain more water and will require less.
Unfortunately, Tim points out, when it comes to your standard almond butter – carcinogens are present even beyond the farm level. When conventional almonds are processed, propylene oxide (a carcinogen) is used for chemical pasteurization and another carcinogen, acrylamide, results from the roasting.
So, what does an entrepreneurial activist do if they want to dismantle the degenerative nature of California's biggest crop?
Food Activism
In 2013, Tim was living in the heart of northern California's almond country, surrounded by conventional almond orchards, which represent the predominant degenerative means of production. What started as a hobby of making almond butter for friends and family, eventually turned into a cottage food business. Then, Tim explains, "as I searched for my life's work and how to channel it through a career that reflected my values, I realized that I could tie together three big threads of my life – being a foodie, thinker, and activist – by starting this nut butter business."
But Tim didn't start your ordinary nut butter business. Philosopher Foods was founded with the mission to create delicious, nutritious, ethical, and ecological food that nourishes all Life through its cultivation, manufacturing, distribution, and consumption. At the heart of fulfilling this mission is sourcing from regenerative producers.
Regenerative almond production – which centers around practices that enhance the entire farming ecosystem, including eliminating the use of soil-killing chemicals – has been shown in peer-reviewed research to address the many ecological, climate, and human health risks presented by conventional almonds. The benefits include increases in:
Soil organic matter (SOM), total soil carbon, total soil nitrogen, phosphorous, calcium, sulfur, and soil health test scores
Water infiltration rates (shown to be 6 times higher than in conventional orchards) 
Plant species diversity, biomass, and percent cover
Invertebrate species diversity and richness, earthworm abundance and biomass, total microbial biomass, and total bacterial biomass
Profit (shown to be 2 times higher than in conventional orchards)
In addition to addressing conventional almond production, Philosopher Foods also employs processing practices that avoid the carcinogens associated with typical processing and lead to healthier end products. These cleaner strategies include:
Stone grinding – which is done at a low temperature, slow speed, and in small batch traditional food processing, and creates more nuanced flavors and textures.
Sprouting – which makes almonds sweeter, more digestible, and more nutritious.
Dehydrating – which preserves the enzymes, flavor, and nutrition of sprouted almonds, unlike roasting, which is more destructive of these elements and generates acrylamide.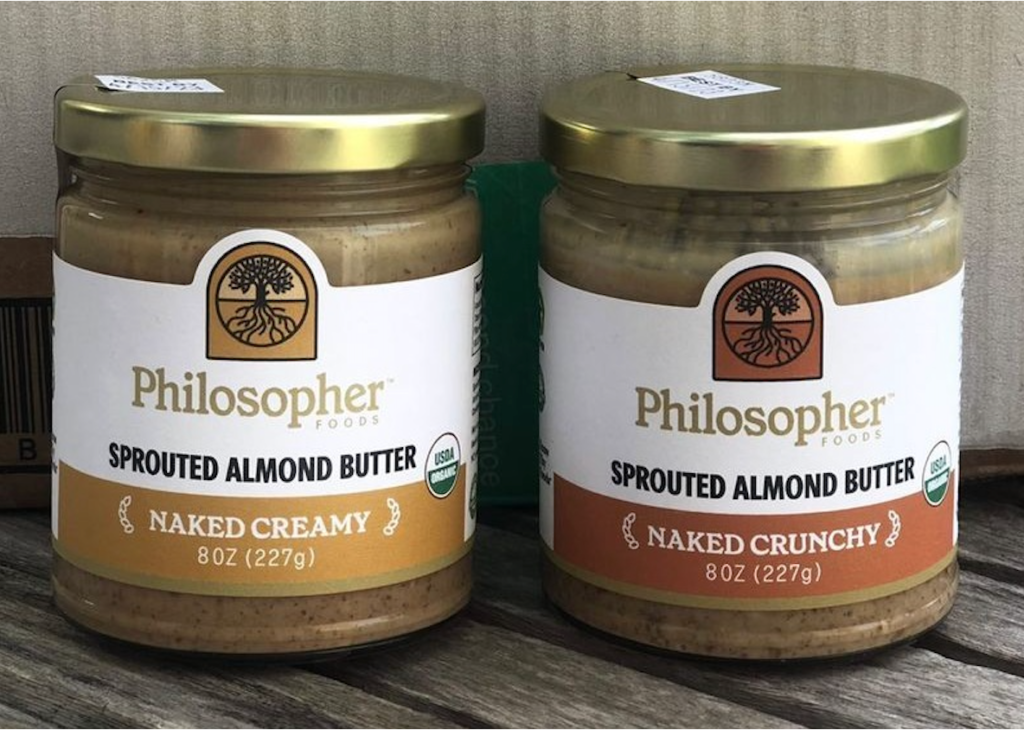 Today, Philosopher Foods has scaled from home kitchen to commercial success – experiencing 36% YOY sales growth in 2020 and 40% YOY sales growth in 2021, almost eclipsing $1M in sales in 2021. The company currently sources from organic and regenerative producers and offers a diverse lineup of nut-based products – including the first and only Glyphosate Residue Free Certified nut butter, 6 different SKUs of sprouted almond butter, 2 SKUs of stone-ground coconut butter, and forthcoming bagged ready-to-eat sprouted almonds.
Regenerative Organic Certified
The company makes the world's first Regenerative Organic CertifiedTM (ROC) coconut butters, the chocolate version of which is a finalist for the NEXTY award for Best New Organic or Regenerative Organic Certified Product at this year's Natural Products Expo West. Coconut and cacao for their products are grown in multi-layered agroforestry systems with many other plants – looking more like their native environment of jungle than a plantation. In addition, while the company is currently sourcing only organic nonpareil California almonds, they are working with their supplier to source the world's first ROC almonds.
With ROC, Philosopher Foods joins other pioneering brands, including Alexandre Family Farm, Dr. Bronners, Lotus Foods, Navitas, New Barn Organics, and Patagonia Provisions, in certifying that products meet not just USDA Organic certification guidelines but also animal welfare and social fairness standards.
Tim says that the decision to go with this certification came from his belief that it is the most stringent and holistic certification for regenerative agriculture. He adds, "I'm tired of regeneration-washing by all kinds of entities, so I wanted to align our products and business with the north star of regenerative certification."

What's Next
Philosopher Foods has already been recognized as an up-and-comer in the regenerative CPG space, and Tim and his team plan to continue building on this momentum. By 2025, the company projects they can grow sales by more than eight times its 2021 level, to more than $6.5 million. Growth will require increasing existing product distribution, development of new product lines, and expansion into new categories.
The company would like to expand national distribution of existing products through UNFI and KeHe, as well as through larger direct to consumer sales on their website, and a more developed Amazon presence. The company also has some innovative new patent-pending products that need to be scaled into launch. Finally, they hope to launch bagged ROC coconut shreds and almonds, which would be a faster moving channel than the premium nut butter niche they're already in – providing the company with some strategic diversification.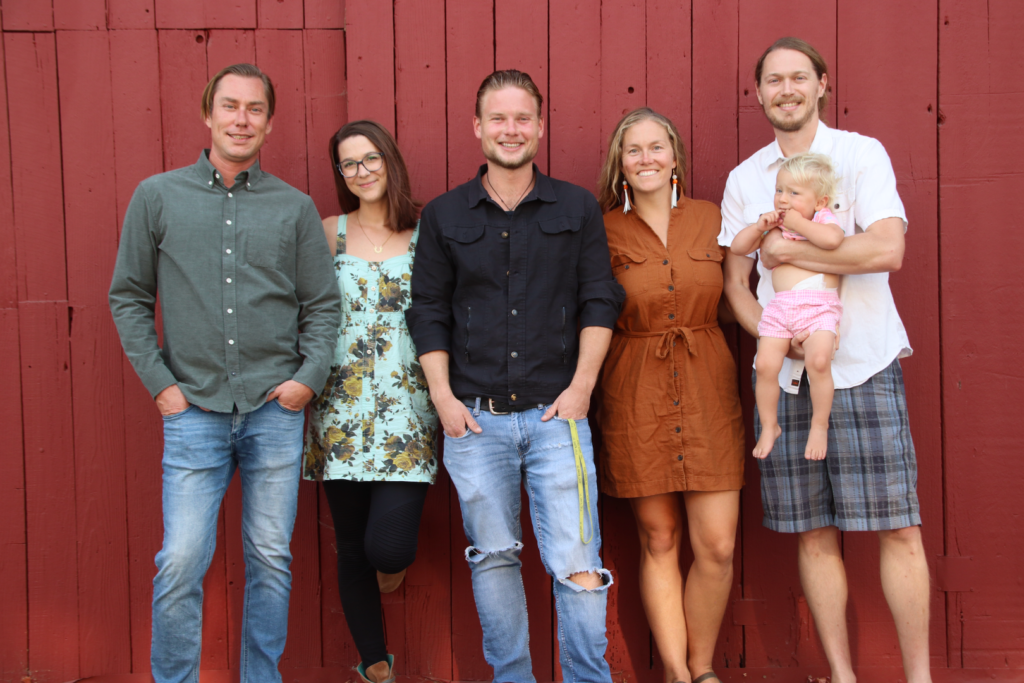 Product expansion and revenue growth will bring scaled impact – something that sits at the heart of why Tim built Philosopher Foods in the first place. "This business is the most powerful tool I've wielded yet for bringing my vision for the world forward. In each jar, I encapsulate my vision and values for creating a world that promotes the flourishing of all Life!" More regenerative food products on the market represent more acres transitioned to regenerative production, indeed translating into more flourishing soil, food, people, and planet.
—
As a food system activist, Tim Richards has a deep desire for collaboration in our industry. One goal he has is to find other businesses in the regenerative space to help fund more research like the Ecdysis Foundation's 1000 Farms initiative. If you're interested in collaborating to create a healthful and regenerative food system with him, please contact Tim here.
---
Sarah Day Levesque is Managing Director at RFSI & Editor of Raising Regenerative News. She can be reached at sdaylevesque@questorcorp.com.