Leading Off: The World Economic Forum in Davos
Al Gore: The Davos Interview
Al Gore has been the Cassandra of the climate crisis seemingly since the times of Cassandra. Starting in Congress over 40 years ago, he has been ringing the alarm for more than half his life. Gore was back at Davos this week, and his message remained as stark as ever.
Read more
Dutch Government and Rabobank Invest in AGRI3 Fund
At the World Economic Forum in Davos, the two new cornerstone investors announced each would contribute USD $40 million to the USD 1 billion AGRI3 Fund, a sustainable agriculture and forestry initiative created by the UN Environment Programme and Rabobank.
Read more
Shaping the Future of Food
Food security may not seem like a pressing issue for the Davos set — except when it threatens to destabilize the planet. The World Economic Forum declared Wednesday "Future Food" day and John Stackhouse of the Royal Bank of Canada reports on the conversations around this topic.
Read more
Regenerative Business:
The Evolution of Farm to Table For Cannabis and Hemp
Niko Uman Borrero is the founder and Chief Executive Officer of Green Bee Farms, a holistic based cannabis consultant agency that specializes in helping cattle ranchers change their hayfields into hempfields and manage their cattle using high-intensity grazing practices.
Read more
Can Starbucks Save the Planet by Cutting Dairy?
Starbucks CEO Kevin Johnson said Tuesday that the company's "aspiration is to become resource positive — storing more carbon than we emit, eliminating waste and providing more clean freshwater than we use." But will eliminating dairy accomplish this?
Read more
Why a Swiss Dairyman's Son Launched a Regen Ag Educational Platform
Daniel Baertschi is heading up a new Swiss organization called Agricultura Regeneratio comprised of farmers, processors, traders, consumers, and the entire value chain. The group's first goal is to provide training and education for farmers to raise awareness around the movement.
Read more
What We're Listening To:
Regenerative vs. Degenerative Ag
The latest Down to Earth: The Planet to Plate Podcast features a conversation with Kevin Watt of TomKat Ranch about the hazards of degenerative agriculture around the world, and the evolution toward new ways of thinking about productivity, healthy food, and thriving on a crowded planet.
Listen here
Opinion: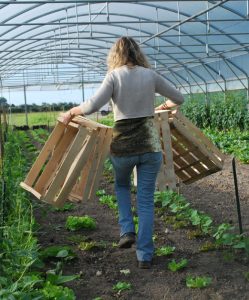 The Role of Investors and Business in Creating a Regenerative Marketplace
The potential of regenerative agriculture to address climate change is huge—but the weight of the switch is currently borne by farmers alone. To make the switch in a big enough way to make a difference, investors and businesses need to step in.
Read more
What We're Reading:
Why It's Time to Stop Treating the Soil Like Dirt via World Economic Forum
Escaping the Hell's Kitchen of Climate Change via The Hill
Restaurants Are Helping to Drive Carbon Farming Practices via GreenBiz
Anthony Myint, co-founder of Zero Foodprint, is one of over 60 nominees vying for a spot on our list of Top 20 Emerging Leaders in Food & Ag. Learn more at www.EmergingLeadersFA.com and vote for your favorite!

Sign up for Raising Regenerative news to be delivered straight to you inbox! Click here.