For both Meghan Rowe and Sara Delaney starting food businesses was a means to addressing issues near and dear to their hearts, while meeting an unmet market need. For Meghan it was to address a clear need for baby food with clean ingredients that even went a step beyond organic to help heal the earth – something she couldn't find in U.S. grocery stores for her son. For Sara it was helping women heal from trauma, while providing the only loose-leaf tea product sourced from Rwanda. Both women found a way to bring healing – of body and soul – to market.
Meghan and Sara are not alone. The past 5-10 years have seen an emergence of brands that offer food for healing of people and planet… and women are leading the charge. Brands like Simple Mills, Moonshot Snacks, Snacktivist Foods, and many others have been founded by entrepreneurial women driven by a desire to nourish, while sourcing ingredients from those that steward the land. These women are building more than brands, they are helping build alternatives to the industrial food system that dominates today.
Regen Brands as a Solution for A Broken Food System
The current industrial food system is characterized by extraction. Extraction of life from the soil through the overuse of tillage and chemical inputs. And also extraction of nutrients from the soil, from crops and food, and ultimately from the human diet – a trend that has contributed to the human health and nutrition deficit in America today. The lack of healthy nutrient-rich foods and the lack of access to it in the U.S. contributes to the abhorrent health and nutrition trends outlined by the Rockefeller Foundation:
Chronic diet-related diseases, including heart disease, stroke, and diabetes, are among the leading causes of death in the United States
42% of American adults are living with obesity, which increases their risk of health problems including heart disease, stroke, and type 2 diabetes
500,000 deaths are caused by poor diets in the U.S. yearly
There's also an increasing amount of research being done to connect the production practices used on-farm and post-farm gate to the nutritional quality of food. Organizations like Bionutrient Food Association, Edacious, Brightseed, and Health Research Institute (HRI Labs) have all been working to build the body of research to support this connection.
Anthony Corsaro, host of the Regen Brands podcast and Managing Director of Outlaw Ventures, doubles down on the need for this research. "One thing that is abundantly clear to me after so many conversations is that tying the human health benefits of consuming regeneratively produced foods to the marketing of regenerative products is our best hope for creating any sort of significant "market pull," he says. However, "We are very far away from any scale and programmatic execution in terms of linking human health to regenerative claims. To accomplish this, there will need to be large improvements in the availability, efficacy, and cost of the science behind nutrient-density testing, the availability and validity of the datasets resulting from said science, education of and alignment from brand stakeholders, and a cleaner and more accessible regulatory pathway (to just name a few)." In the meantime, brands aren't waiting. Instead, they are building products and supply chains that incorporate values of human nutrition, mental health, and planetary health, among many other values. In other words, emerging brands are doing a lot of the heavy lifting to pull together new food systems.
(If you want to learn more about emerging regenerative brand building, check out the Regen Brands podcast.)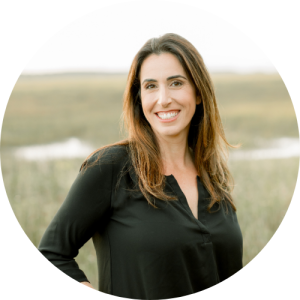 Meghan Rowe
White Leaf Provisions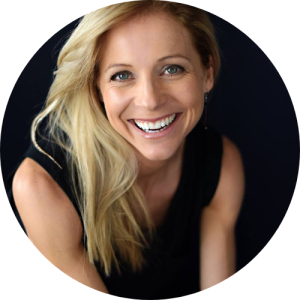 Sara Delaney
Sarilla
The Brand Building Journey
For Meghan Rowe and her husband Keith, the importance of food as the foundation to a healthy lifestyle was front and center when their first son, Keegan, was born. Like many parents, a time came when they started looking for convenient store-bought options and discovered baby and toddler food grocery store aisles had lots of organic and GMO-free certified products, but none went a few steps beyond to showcase regenerative farming. To add insult to injury, their son also began having adverse reactions to even the most organic and 'healthy' baby food options, further hindering their trust in the farming behind the ingredients. So, the couple began to import Biodynamic baby food from Europe and realized that other parents were doing the same. They immediately recognized an unmet need in the U.S. market and knew they were onto something.
Becoming parents also changed Meghan and Keith's global outlook on the health of human and planet with a newfound sense of urgency, says Meghan. Keith, an Irish professionally trained chef, and Meghan spent many years in Europe and were familiar with their standards of food and farming. In contrast, "We recognized that the majority of U.S. soils are extremely degraded (over 50%!) with a negative impact on the quality of our foods," she explains. Even more, the way the U.S. currently produces most of its food is making climate change and biodiversity loss worse—agriculture is responsible for a quarter of greenhouse gas emissions, 70% of freshwater use and 80% of habitat loss. "We felt a deep call and sense of responsibility to leave our children a more viable home. So, we got to work and decided to create the solution for ourselves – on a mission to produce convenient, pure, regenerative foods that not only minimize harm but also actively restore our soils and planet."
The product of their vision is White Leaf Provisions – founded in 2016 – a family run business co-founded by the husband and wife team. Their brand brings the first 100% regeneratively farmed, biodynamic, organic, Glyphosate-free & GMO-Free family foods line to retail in the US.
Sara Delaney's brand Sarilla also seeks to create healing, but her journey took an altogether different route. Years ago, despite being a lifelong entrepreneur with a background in finance, she was also struggling with addiction and unhealed trauma, and, she says, needed a way to "tap into her own true purpose." The country of Rwanda – with its history of horrific trauma after the 1994 Rwandan genocide that killed more than 800,000 people – became Sara's purpose. She spent a year in Rwanda and worked with genocide survivors who were healing and who provided Sara with an almost instant community. Since that time back in 2009, she has built an organization called 3 Mountains that is part social enterprise to serve communities back in Rwanda and part emerging brand – now called Sarilla – that makes carbonated, non-alcoholic tea drinks with tea leaves sourced from a female farmer cooperative in Rwanda.
Not only does the company support fair trade, poverty alleviation, entrepreneurship training, and mental health resources back in Rwanda, the Sarilla product is designed with ingredients that promote mental health. The teas are high in theanine, amino acids, theobromine and other antioxidants and anti-inflammatories and provide mental focus and energy without the jitters or crash.
Both Sara and Meghan found ways to lean into systemic transformation using food and beverage as the vehicle to do so.
Bringing Consumers Along
Core to the products that both women produce are the ingredients, and the story behind how they are produced. This story, for both women, is a multi-faceted one of healing for the planet because of the clean way they are produced, healing for the producers, and healing for those that consume the healthy ingredients. But, like most regenerative brands, because the regenerative food system is still in its infancy, White Leaf and Sarilla have to work extra hard to convey these stories, and the overall benefits of regenerative, to consumers.
For her part, Sara and the Sarilla team are focused on some guerilla marketing activities to get the word out about their mission and how their unique ingredient sourcing plays into it. They have updated banners, labels, and their website to include story-telling about their regenerative ingredients and social impact. Sara also spends time speaking across industry events and is communicating growing demand in the U.S. to farmer partners in Rwanda, as they prepare to expand their regenerative farmland. Technology will play a growing role in their communications. Internally, Sara is particularly excited about lab work they are doing to better understand the value and quality of their ingredients. Meanwhile, they are working on technology to support more outward-facing consumer education – things like QR codes that can connect consumers to ingredient information and help convey the nutritional value of the ingredients.   
Meghan explains that since first beginning to formulate their products, they have prioritized certifications and highly vetted farming partners as their "North Star, ensuring customers that each and every ingredient has been grown and produced to the strictest international standards."  After talking with countless regenerative farmers and operations to gain a better knowledge of what they were growing and the quantities they were growing, they were able to partner with a handful of carefully selected certified national and international farms and processing facilities to allow us to bring our products to market.
They also went a step further and started to quantify their impact. They partnered with HowGood to help measure the holistic impact of their products on the environment and bring greater trust and credibility to their brand mission and promise. Through the partnership, Meghan and Keith, as well as their customers, "get deeper insight into the farming practices behind each and every ingredient, and how they play a vital role in addressing and mitigating the overall carbon footprint of our finished products."
At the 2023 RFSI Forum, Sherry Frey of NeilsenIQ shared that regenerative agriculture is one of the fastest growing claims across stores today – in large part because consumers are increasingly weaving their health to the health of the planet and increasingly seeing the tie between health and wellness to regenerative agriculture. But despite this, awareness about regenerative is still fairly low. So the kind of intentional marketing and awareness-building that brands are doing can go a long way in expanding consumer awareness of regenerative and climate-friendly foods – which is a significant need in the space right now.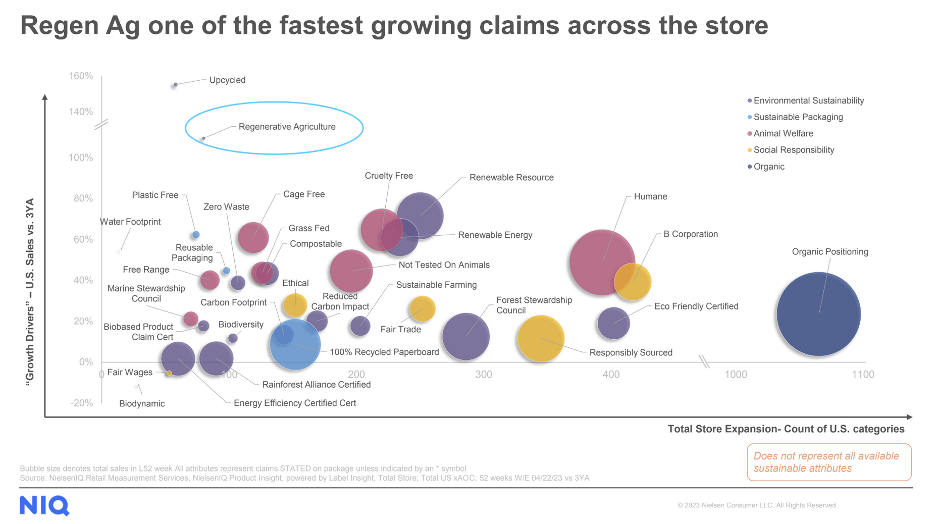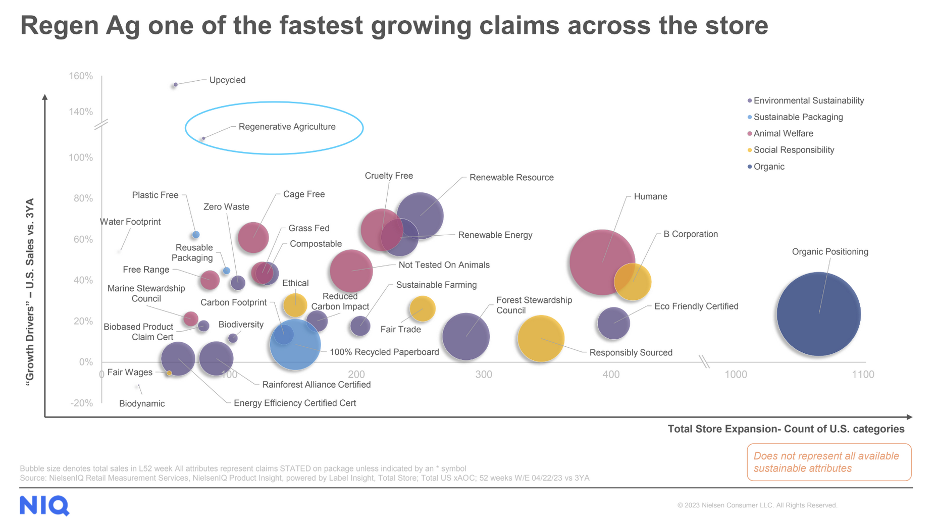 Capital is the Fuel for Growth
The potential for impact (and amazing food and beverage products) from emerging regenerative brands is large but, as with many start-up businesses, capital can be a limiting factor. The journey ahead for both Meghan and Sara includes raising capital to take White Leaf Provisions and Sarilla to the next level.
To this point, Sarilla has been self-funded with the help of grants and other philanthropic capital and angel investors that include family and friends. But they are currently in a raise for $1 million in seed funding – to which they are about one-third of the way there. The capital raised will be used for sales and marketing with the goal of "getting more cans in hands and more liquid to lips," says Sara. She's also thinking creatively about how to continue to fund business growth – she hopes to diversify her funding sources to build an integrated capital stack and is also exploring how other parts of the business might be able to feed the Sarilla brand growth.
Meghan and Keith are also just starting their Series A-2 fundraise where they aim to raise at least $1.35M to support their general OPEX, as well as increase marketing efforts for the direct-to-consumer (DTC) channel and gain new distribution in their cross-over channel strategy. Meghan explains that their business has "been strategic and careful with our growth since day one." And while she can rattle off some pretty impressive growth stats – including that year-to-date revenue is ahead of the prior year by 103.9% and their year-to-date growth margin is at 40.7% – most exciting to them is that they are continuing to innovate in product development. Their applesauce line will be migrating to a new format to achieve stronger economies of scale, a stronger margin, and a more preferable format for our consumers, and they are working to finalize the development of a regenerative snack line geared toward the age of 2-6 year olds, which also has potential to support a fully regenerative US supply chain from farm to shelf.
Looking Back to Move Ahead
As they both embark on their respective next steps in growing their operations and their impact, Sara and Meghan have lots of lessons to reflect back on.
For Sara, something her mom used to tell her is what stands out most to her: T The P. "Trust the process," she explains. As she sees it, a lot of visionary founders know where they are going and where it's going to land but the small day to day steps can feel excruciatingly slow. The key is to "Be patient and enjoy the moment… and don't let go of the long-term vision."
What stands out most to Meghan in her journey is to be relentless in your mission and conviction. She reflects on the first iteration of a business plan for White Leaf Provisions that she wrote years ago. "I went into great detail about our degrading soils and the pervasive use of Glyphosate, and how much it was a high risk to human health. I also focused on the issues of heavy metals in the soil, and the need to transform our food systems from the ground up, with regenerative agriculture as the elegant solution, rooted in nature." However, after review by numerous advisors and people in the industry, she was told to tone down that narrative so that she didn't come off as alarmist and negative. She was told that tone was definitely not what one would expect from a 'baby food' company. "Now seven years later, those topics have finally begun to take root in the mainstream media. We are at a crucial tipping point to help establish regenerative agriculture into a household name and golden standard for food and farming in this country and help farmers adopt these practices, as well. I only wished I had stayed the course and maintained my strong narrative from the get-go instead of washing it away," she reflects. Their saving grace on this, however, is that they have been extremely stubborn when it comes to their sourcing standards and messaging, something she strongly believes has helped White Leaf get as widely adopted as it is today.
Patience, trust, conviction – things Sara and Meghan have both honed over their journeys thus far, and things that will be critical to keep growing emerging brands and expanding the adoption of new food systems that nourish people and planet.
---
Meghan and Sara (and their delicious products) will be participating in the upcoming Women Transforming Food & Finance event in Atlanta – learn more and meet them in person there.
---
Sarah Day Levesque is Managing Director at RFSI & Editor of RFSI News. She can be reached here.